Bollywood actress Tanushree Dutta took to her social media handles to inform fans that she met with a 'freak' accident while on her way to Mahakal Temple in Madhya Pradesh, Ujjain. The actress revealed that a vehicle she was traveling in had a brake failure and luckily she manages to escape the accident with 'just a few stitches on her leg. She also shared a photo of her bruised leg and thanked the almighty and doctors for protecting her.
Taking to her Instagram handle, Tanushree shared a couple of her photos from the temple and wrote, "Today was an adventurous day!! But finally did make it to Mahakaal darshan..Freak accident on my way to temple...brake fail crash.. . Got away with just a few stitches...Jai Shree Mahakaal!."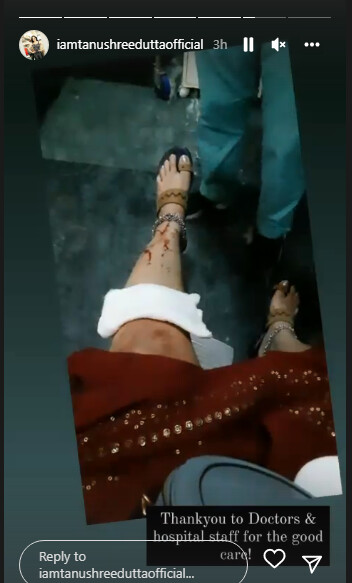 Tanushree also posted a few pictures from her journey to Mahakaal Temple on her Instagram stories and said that her 'faith is not blind.' The actress captioned one of the posts as "My faith is not blind. It sees & feels & knows stuff. My faith is the rope I have whenever life feels like quicksand…Its a shield too in times like this.. Like In the moment of my crawl..even in that dreadful moment when I didn't know what is in future a still small voice in my heart spoke to me and said that I will be fine. I prayed for no broken bones…so no broken bones…People on the 2nd floor heard the crash..but no broken bones..I choose to live by faith…whatever happens happens for my best. It's OK.. I'm fine now..Tomorrow will be a better day (sic)."
In yet another post, Tanushree shared a video of the temple and said that her very first road accident has made her 'resolve and faith stronger.'
On the work front, Tanushree has been away from films for a long time now. She was last seen on the big screen in the 2010 film Apartment.
Image Source: Instagram/Tanushree Dutta