His home – where admission was strictly by permission – on Mumbai's Worli Sea Face, is lashed by huge waves during the monsoon month of July. If he were alive today, he would have been watching the sea tide for hours, puffing away at the kind of Briar pipe you'd associate with Sherlock Holmes.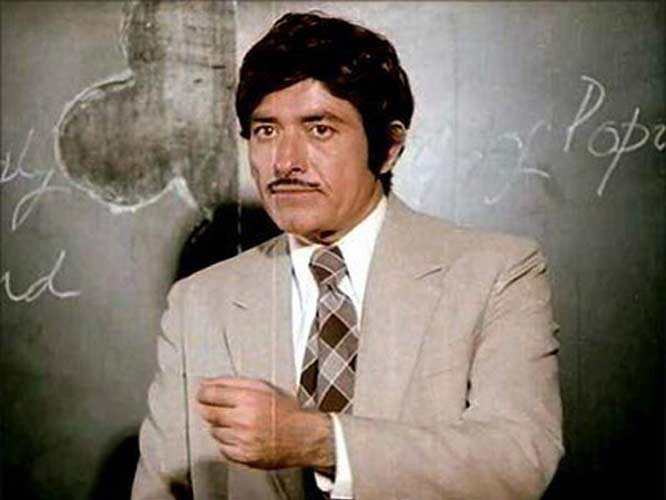 Raaj Kumar In His Younger Days
Not that Raaj Kumar was a snoopy sort. He guarded his own privacy fiercely, and spoke only when spoken to, or when he wished to exchange thoughts on poesy, literature and whoa, his own brew of existentialism. Today (July 3) marks his 21st death anniversary.
Bollywood's most flamboyant and quirky thespian of all time passed away at the age of 70 in '96. Only Kishore Kumar compares to him when it comes to recalling jaw-dropping anecdotes.
Born Kulbhushan Pandit in Kashmir, the police sub-inspector-turned-actor is believed to have coerced a teetotaller film producer to down a bottle of Scotch while swimming at a beachside. Or else, he wouldn't accept his film.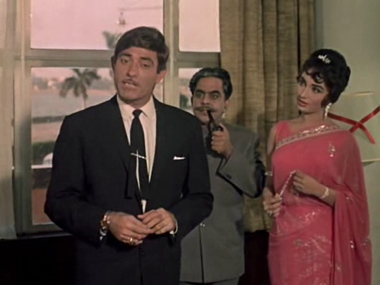 Raaj Kumar With Manmohan Krishna & Sadhana In Waqt
Another story goes that at a film soiree, he took one long look at Zeenat Aman, at the peak of popularity then. And he paid her a left-handed compliment, drawling, "You're a good-looking girl. You should join the movies." Then there was chatter that he wouldn't brook no opposition when it came to delivering punch-lines. As it happened, the comedian character actor Mohan Choti, playing his domestic help, was assigned a clever line or two for a scene. However, when it came to picturising the scene, Raaj Kumar appropriated the lines for himself. The co-actor was literally dumbstruck.
Those examples of eccentricity may be apocryphal or exaggerated but I can vouch for the fact that he could be peculiarly possessive about his bottle of scotch. While gabbing him with him on the studio sets of Yash Johar's Muqaddar Ka Faisla, he was downing whisky. Johar saab entered the make-up room to tell him the next shot was ready. "Fine," he said, picked up the bottle, locked it in closet, opening and closing it again to ensure that I wouldn't break in.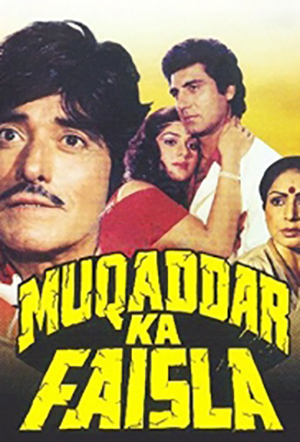 Raaj Kumar In Muqaddar Ka Faisla Directed By Prakash Mehra
Cautioned he, "I'm leaving the key here. But don't you dare pilfer my scotch." Then pointing at the tray of papads and samosas, "You can have those if you're hungry." Huh, and there I was sticking to the principle of never drink on duty. I assured him his booty was safe.
In fact, he was a film reporter's dream-come-true, darting quotable quotes effortlessly. At that scotch-in-the-closet meeting, I had to ask him roundabout about the rumours about his liaison with a lady, whom he may or may not marry. Hesitantly I inquired, "Have you ever fallen in love, sir?" To that he smirked, "Bache, no one falls in love. Yeh toh pyaar ki tauheen hai. I have only risen in love."
Since I chortled instinctively, followed another squelcher, "Love means so many things – ecstasy, belonging, physical compatability…we could go on talking for days and months. Do you have the time?" Now such logic couldn't be rebuffed, could it? I responded haplessly, "Some other time maybe. I'd love to hear more." Inadvertently, the word love had crept into my sentence. For some reason, that pleased him to such an extent that he unlocked the closet, pulled out the treasured scotch bottle with a flourish to say, "Let's drink to that," and called out for another glass. To my horror, I accepted the Siberia-sized peg. Anything to keep the artiste whom I'd been amazed by for his off-the-wall performances in Paigham, Ujala, Waqt, Dil Apna Aur Preet Parai, Dil Ek Mandir, Neel Kamal, Heer Ranjha, Lal Patthar and , too many to laundry list here.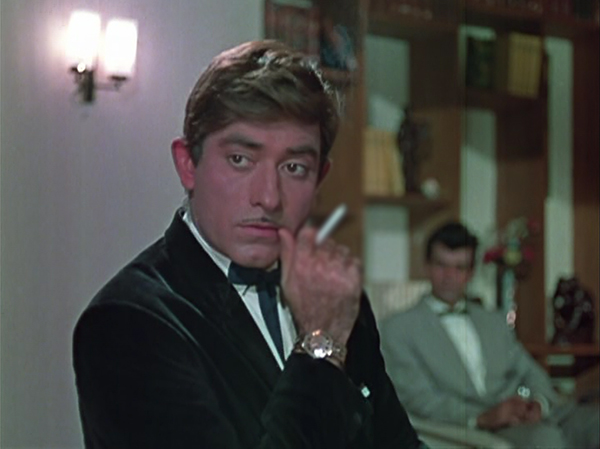 Raaj Kumar In BR Chopra's Waqt
In the course of that interview, I'd detected that there was a certain tentativeness when he was asked to elaborate on Dilip Kumar. "You saw us in Paigham," he had stated brusquely, "You tell me. Did or I did not hold my own against the great Yusuf saab?" Couldn't quite answer that one, since I'd seen that film when I was just out of the crib maybe. Later, the two monarchs of dialogue delivery (and more) crossed histrionics in Saudagar, their dance together being the opulent drama's classic piece de resistance. The sparks of one-upmanship, on the part of Raaj Kumar, were palpable. To this day and age, I may add.
When the "risen in love" interview was published, I was told by Yash Johar that my subject was pleased. Some weeks later, I was informed by producer Pranlal Mehta that Raaj Kumar had asked me to fly down to Mysore for the shoot of Marte Dum Tak in Mysore, so that we could exchange some sher-o-shayari. But I'm not well-versed with that, I pleaded, to which the producer retorted, "So what. Just be there. Humour him, or he'll get into a bad mood with me."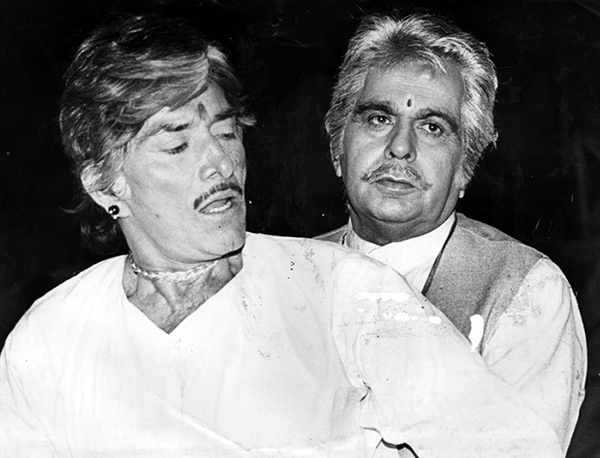 Dilip Kumar And Raaj Kumar
In wintry Mysore, a bonfire crackled under a starless sky. The thespian recited stanzas from the oeuvres of Mirza Ghalib, Momin, Daag, Iqbal by rote and then halted dramatically, "Do you understand any of this? Can you read and write Urdu?" I had to say, "No."
His face darkened, "Then you're jaahil (uneducated.)" A humongous pause later, he sighed, "Never mind. At least you've come here on my invitation. I cannot be inhospitable." The scotch flew late into the night as he shifted gears towards the nazms he had authored, written in neat Urdu calligraphy in a diary. "Waah, waah," I went, hoping against hope that I wasn't sounding fake (which I was).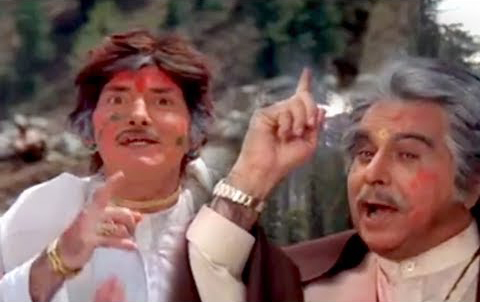 Dilip Kumar And Raaj Kumar In The Song Imli Ka Boota
The producer saw me off the next day, crestfallen a bit, since I hadn't measured up to his leading man's expectations. When I did piece together an account of that night of poetry and scotch, came Pranlal Mehta's 'phone call to exult, "Oh he's very happy with your write up. Congratulations!" Erm, well okay thanks. Are you sure?
Not surprisingly, Raaj Kumar didn't solicit another interview with me ever again. After all, throughout his career span, the audience would infallibly clap, whistle and go wah-wah over the dialoguegiri of a man who always rose but never fell in love.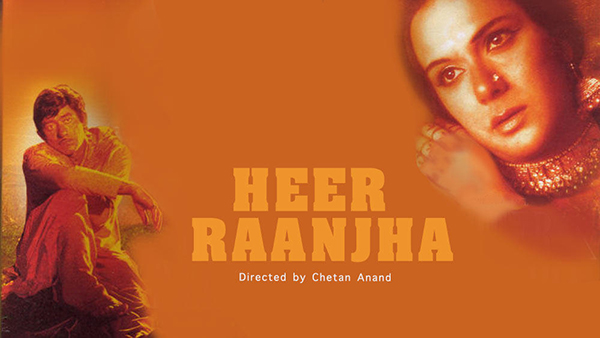 Raaj Kumar In Chetan Anand's Heer Raanjha
Spotboye.com does not support smoking.

Image Source: crazyfunnyideas, motivateme, renjiveda, madhulikaliddle, mrandmrs & oldisgoldstars