The Kashmir Files Writer Saurabh M Pandey On Going Through An Emotional Pain While Doing Research: 'I Used To Feel Horrible Thinking About Atrocities On Kashmiri Pandits'-EXCLUSIVE
The Kashmir Files screenplay writer Saurabh M Pandey talks about going through emotional and mental turmoil while doing research for the movie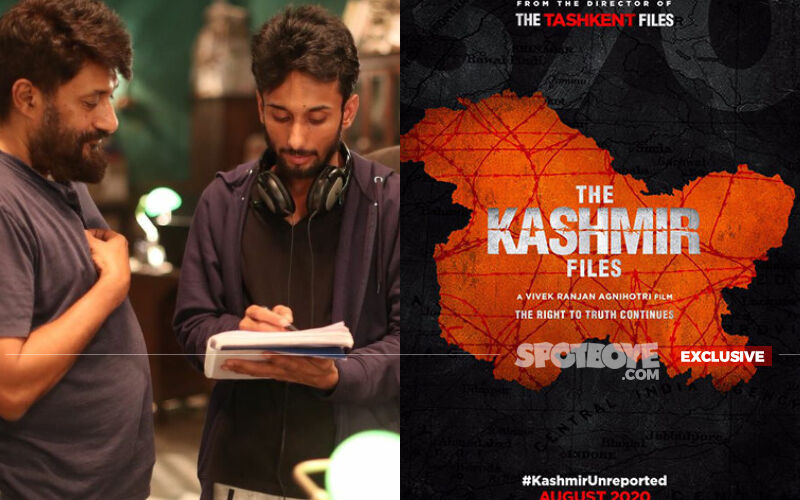 Vivek Agnihotri's latest release 'The Kashmir Files' traced the real-life and tragic incidents of the Kashmiri Pandit exodus in the valley and the subsequent genocide by Islamic militants. The movie has been garnering praise from every nook and cranny, in fact, PM Narendra Modi too appreciated the film saying that more films like this need to be made so that people can know the truth. SpotboyE.com recently got in touch with Saurabh M Pandey, who has written the screenplay and dialogues for 'The Kashmir Files.' Saurabh along with Vivek has done extensive research on the film and its hard-hitting content.
Talking about how difficult it was to ensure that everything researched is factually correct, Saurabh shared, "The difficulty was that this story perspective is very different than other stories, a story like this involves a lot of research, how did it happen, how many people died, how many people migrated from there. This information is very important to form a strong base of the story. And most importantly the person who has been in this genocide, it's very complex to understand his space of mind, the atrocities that they went through, how were they living there with constant fear, there used to be posters, slogan marches, and then how were they sent away, how they reached the camp, in what physical conditions they survived as a traveler. The person who goes through this emotionally, physically, changes a lot. So that was one of the biggest challenges to ease them and to catch the key points of their narration. The film is a very strong medium to express a story and emotion and to reach the mass easily. So the centre focus of the research was to understand their suffering and pain and put out the story in the simplest way to the mass. We have interviewed around 700 people, read a lot of books, and watched a lot of documentaries that were available." ALSO READ:
The Kashmir Files: Anupam Kher Expresses Gratitude To Fan-Made Collage That Compares His Acting With Heath Ledger's Joker: 'Anonymous Compliments Are Best'
When asked if the research work took a toll on his mental health, he said, "I used to feel horrible, at times when I had to switch to other work apart from this film, then I had to give it some time, I used to feel why did these things happen, used to be very angry from inside. When one reads a story, it feels as if they are living the story, I used to be upset and angry at the same time. Another thing was to hear the truth and handle the truth with utmost honesty."

Speaking about PM Modi lauding the movie, Saurabh Pandey mentioned, "When the prime minister of your country appreciates the work, then one obviously feels very good and you feel hopeful that more such content will come that will shed light on the genocides and true stories will reach more people. So it feels like the society will undergo revolution and people will learn from the mistakes of the past."
He also showered heaps of praise on Anupam Kher's brilliant performance as Pushkar Nath Pandit in the film. He said the actor has delivered his best performance and it is indeed his favorite character of Kher's. " I have seen growing up watching Anupam Kher sir, he is a magnificent actor. The character that he has played in the film, I can say he has played a really fine role and he has done full justice to the character. Each and everyone attached to the film has individually done their part really well. Anupam sir's character was so well made and executed," he added.

Saurabh M Pandey signed off saying, "I am very grateful and thankful to everyone for appreciating the film and giving it so much love. This is very motivating that people are interested in watching films like this. So, thank you for giving me this motivation. And I also hope that after this film the Kashmiri pandits get their Justice and there will be more peace in the society.'
Image Source :PR