He is a talent powerhouse, extremely suave and super-stylish but somehow fate has not been good to him for the longest period. We're talking about Saif Ali Khan.

The Nawab of Pataudi has not been performing well at the box-office. His past few films like Rangoon (2017), Phantom (2015), Happy Ending (2014), Humshakals ( 2014), Bullet Raja (2013) have bombed at the box-office.

However, there is something about Saif because of which filmmakers are still keen to work with him.

Now, Saif is all set for his next release, Chef. The talented actor is very open about the fact that he is now desperate for a blockbuster hit.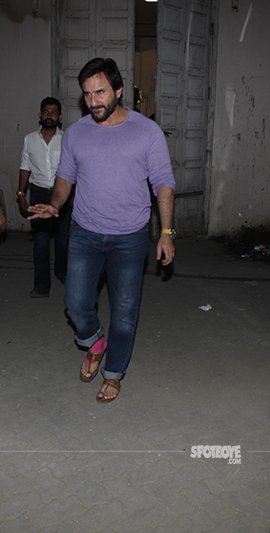 Saif Ali Khan Snapped At Chef's Promotion

"It is important that Chef performs well, else I will have to question what is going wrong [with my career]. It affects my image of being a star, because, a star is supposed to be bankable. Yet, it doesn't affect my confidence. [Despite the debacles of my past films], I still have three films and a Netflix series in my kitty. I have been the first choice for all these projects. So, I am sure I have done something right. I am doing better work now, working with better directors than I have," said Saif in an interview to a leading daily.

The box-office hasn't particularly been favouring Saif Ali Khan as his last hit was Race 2 (2013). Saif's contemporaries write off box-office collection citing that it doesn't reflect the choices an actor makes in his career. However, Saif seems to be desperate for a huge turnout at the box-office.

Apart from Chef, Saif is currently shooting for India's first Netflix original, Sacred Games. Post that he shall start promoting Akshat Verma's Kaalakandi and Nikkhil Advani's Bazaar.

So, will Chef work for Saif Ali Khan's turbulent career? Well, fingers crossed!


Image Source: Manav Maglani & pisanieprac