THROWBACK! Deepika Padukone Loses Her Cool On Ranveer Singh During Bajirao Mastani Promotions; Her DEATH STARE Leaves The Actor Speechless-WATCH VIDEO!
Deepika Padukone was seen giving Ranveer Singh the death glare as he was interrupting her from answering any questions, and netizens instantly remembered their mothers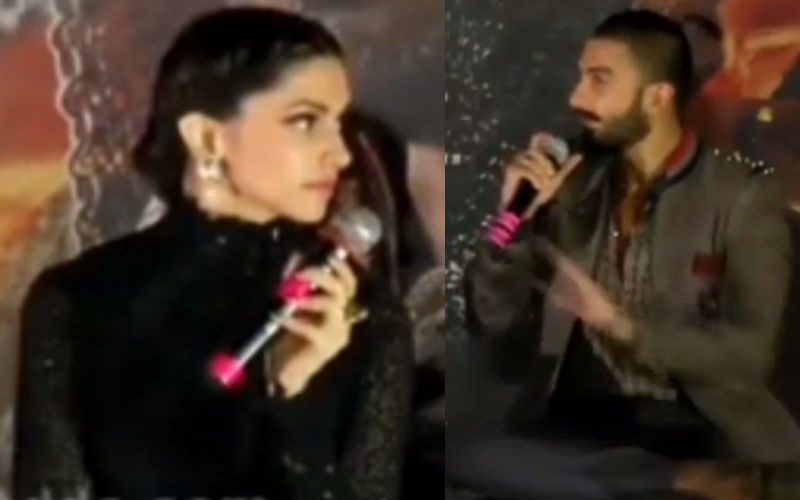 Deepika Padukone and Ranveer Singh are one of the most loved celebrities in Bollywood. Their love story is nothing short of a fairytale. While the duo is always in a lovey-dovey mood with each other, it's not always sunshine and rainbows.
Recently, a video of the Chapaak actress losing her patience with her then-boyfriend has resurfaced and it has left the internet in splits.
Yes, you read that right!
The video is from a press conference event when they were promoting their movie Bajirao Mastani. In the video, it can be seen that Ranveer is constantly interrupting Deepika from answering the questions, which leaves the actress no choice but to give him an icy glare. The actress tried to interject twice in the midst of the actor's random remarks, but he didn't seem to get the hint. Finally, fed up with his antics, Deepika glares daggers at him, which makes Ranveer shut up before he gestures at the person asking the question and says, "Haan bolo." It seems like Ranveer couldn't help himself from adding one last comment. He said, "Dola re dola."
Netizens immediately compared the actress' technique to their mothers' and spouses'. One commenter wrote, "He could immediately see flying chappal coming his way with that stare." Other wrote, "My mom has this stare. Growing up none of us wanted to be on receiving end of that stare." One fan wrote, "i just asked my partner if i've looked at them like this and they said YEP." Another fan wrote, "Waiting for someone who says Dola Re Dola when I'm also angry."
Some even wondered what it would be like to live with Ranveer. They wrote, "I wonder what he's like to live with."
For the unversed, Deepika Padukone and Ranveer Singh began dating when they were shooting for their first film together - Sanjay Leela Bhansali's directorial, Ram Leela, which left their fans in awe of their chemistry. Since then, they have worked together on Bajirao Mastani, Finding Fanny and Padmaavat.
Image Source: Instagram