'Evergreen' Rekha is one of the most well-known actresses in Bollywood with many blockbuster films to her credit. She has appeared in more than 180 films and is the recipient of several accolades, including a National Film Award. Apart from her filmy career, Rekha has always been in the headlines for her relationship with Amitabh Bachchan and for controversies. Many interesting and unknown anecdotes about her personal and love life often surface online and recently in an unearthed page from a 1975 edition of a movie magazine, it is revealed how Rekha used to annoy actor Kiran Kumar in the late 90s.
A Reddit user recently shared an old magazine article where the popular veteran actors revealed what they 'hate about their mate'. And, one of its featured articles contained a piece talking about how Rekha was annoyed by Kiran Kumar because of his dutiful son's personality. As per the magazine article, Rekha was reporting dating Kiran Kumar back then and she used to get annoyed by the actor's 'dutiful son' personality, and his insistence on returning home by 10 pm to have a 'glass of milk'.
ALSO READ: SHOCKING! DID YOU KNOW Rekha Once Said That She Didn't Deserve A National Award For Umrao Jaan?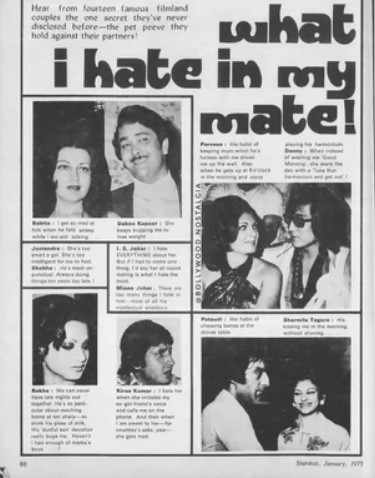 The article read, "Haven't I had enough mama's boys," she asked. Kiran responded by saying that he gets annoyed when Rekha mimics his ex-girlfriend's voice on phone calls. "And then, when I'm sweet to her, she gets mad." The magazine also had an article revealing how veteran actress Babita used to get 'mad' at Randhir Kapoor when he 'falls asleep' during the course of their conversation.

To note, Rekha's personal life has always hogged the limelight owing to her alleged affairs and linkups rumours. She was linked to her co-actors Jeetendra, Kiran Kumar, Vinod Mehra, Sanjay Dutt, Amitabh Bachchan, and even Akshay Kumar in the past.