Toofaan Teaser Review: The Film Is Farhan Akhtar's Raging Bull
The teaser of Farhan Akhtar's upcoming film Toofaan released today! Read the review of Toofaan's teaser as makers dropped the first rushes today. The film is directed by Rakeysh Omprakash Mehra and will premiere on May 21, 2021, on Amazon Prime Video.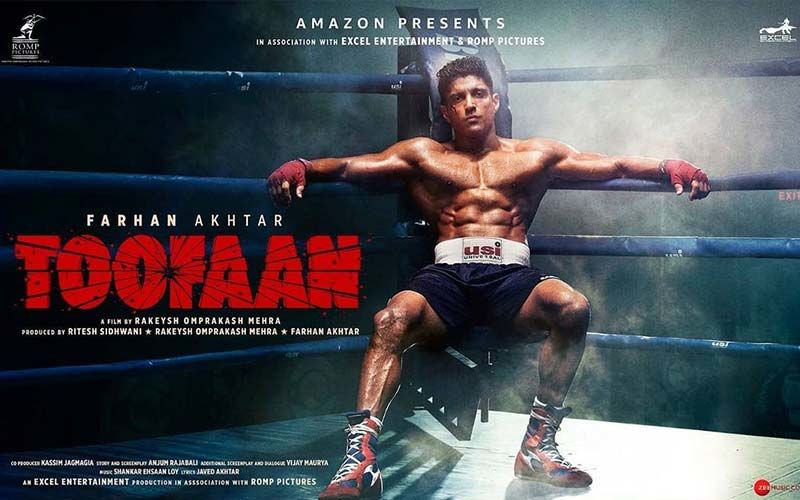 Every major actor yearns to play a boxer at least once during his career. The problem is, after Robert de Niro and Sylvester Stallone acing it in Raging Bull and the Rocky series, respectively, everything else looks pale in comparison.
Well, to hell with the competition! Farhan Akhtar looks like he is poised to kill it in Toofaan. The teaser just out demonstrates the actor at the pinnacle of his powers. Farhan is intensely involved in bringing his boxer character's inner world to the screen. What I glimpsed was not just the puffed wounded eye, but also the pain behind it.
Although the familiar tropes of the sports genre are all there(the supportive girlfriend, the surly coach, the spoilsports, etc) the teaser succeeds in radiating an electric aura replete with the drama and passion, we haven't seen in a desi sports film since Rakeysh and Farhan got together for Bhaag Milkha Bhaag.
One quibble: why do we need a romantic interest at all in a sports film about a male boxer preparing to meet his match in the ring? The supporting cast is committed to making Farhan's central performance dazzle your senses. Paresh Rawal as Toofan's coach finally gets the role he deserves (we forgive you for Coolie No.1) while the redoubtable Vijay Raaz kicks the ball out of the park in just one scene in the trailer.
Would Farhan get the National award for Toofan? Going by what we see in the trailer he just might. In the bloodied kingdom of Toofan, might is right.
Image Source: Instagram/faroutakhtar