Anita Hassanandani Beams With Joy As She Poses For A Selfie With Her 'Sons'; Actress Gushes Over Her 'Oh So Perfect Life'
Anita Hassanandani, who welcomed her first child with Rohit Reddy, took to her Instagram to post an adorable selfie with her 'sons'. Confused who her two sons are? Read on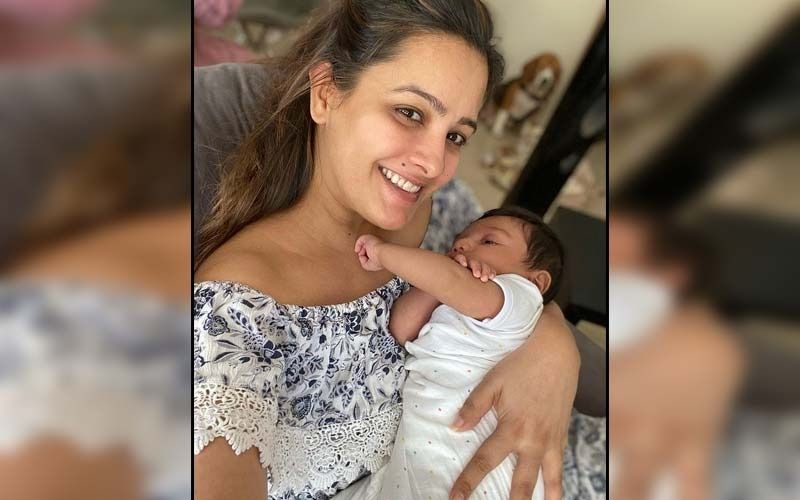 Popular television actress Anita Hassanandani and her hubby Rohit Reddy welcomed their first child- a baby boy- last month. The couple has been over the moon since then! They revealed the baby's face for the first time in an adorable video, and revealed that they have named him 'Aaravv'. Aaravv also has an Instagram page handled by Anita Hassanandani and Rohit Reddy, and we get to see some adorable pictures and videos of him there.
New mommy Anita Hassanandani has been spending all her time with her son, and the doting mom often shares lovely pictures and videos with Aaravv. This time around, Anita Hassanandani took to her Instagram account, and shared a happy selfie of her holding her baby boy Aaravv. However, her caption left many confused. She wrote about her 'perfect life' with her 'sons'. A few social media users were confused who her two sons are. For those wondering, Anita is referring to her son Aarav, and her pet dog Mowgli Reddy, who is also a family member.
Anita's pet dog Mowgli also has an Instagram page of his own, handled by Anita and Rohit Reddy. The bio of the Insta page reads, "I am Mowgli Reddy. Follow me on my adventures around the Reddy house with my mommy and daddy!" In the selfie that has been shared by Anita, we can not only see her holding baby Aaravv, but Mowgli also featured in the picture. He can be seen in the background. Anita Hassanandani shared the adorable snap and wrote, "My oh so perfect life in a selfie MyJaans TrueLove MySons." Take a look:
Meanwhile, a few days ago, Anita Hassanandani took to her Instagram stories to share a video clip of her singing the Gayatri Mantra to baby Aaravv.
Check out the video here.
Image Source: Instagram/Anit Hassanandani