Video: Jacqueline Fernandez Gatecrashes Shilpa Shetty's 'Super Se Bhi Upar' Birthday Party...
Shilpa Shetty's darling husband Raj Kundra surprised her by organising a rather special birthday bash for her. She was overwhelmed, especially when an over-enthusiastic Jackie entered the scene...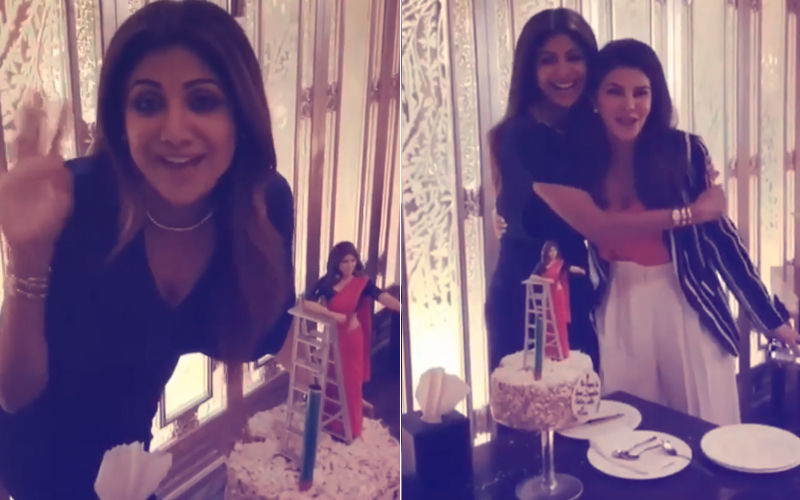 Shilpa Shetty turned 43 yesterday and the actress wanted to celebrate to celebrate her big day just with the two men in her life - husband Raj Kundra and son Viaan. However, Raj, Shilpas's doting husband tried to spice things up by organising a surprise bash for his ladylove. And the cherry on the cake, this time, was the cake itself. Check out Shilpa's Super Se Bhi Upar wala cake! Yes, cake had a ladder on the top and Shilpa Shetty walking on it in a saree. Shilpa was overwhelmed, and that's when an uninvited and especially enthusiastic guest made an entry.
And she was none other then Race 3 actress Jacqueline Fernandez. Here is the video for you:
In the video, Shilpa flaunts her customised cake and introduces us to Jacqueline - the surprise guest. Jacqueline herself reveals that she gate crashed the celebration. Shilpa also shared another excited video with husband Raj Kundra and their son Viaan on Instagram:
Viaan gifted his mommy a handmade card and the actress shared it's pic, captioning it, "Love birthdays, starting a new. Looking forward to the many surprises life has in store. Thank you, Raj Kundra and Viaan for making it so special. All you need is family." She also thanked her fans for all the birthday wishes.