Vidya Balan Gets The Youth Icon Award By The Imperial College And It Is A Special One; Find Out Why
Vidya Balan who shot in London for her upcoming movie a biopic on Shakuntala Devi was conferred with Youth Icon Award by The Imperial College of London. The actress taking to her Instagram account, expressed her gratitude towards the institute and mentioned the reason of it being extra special for her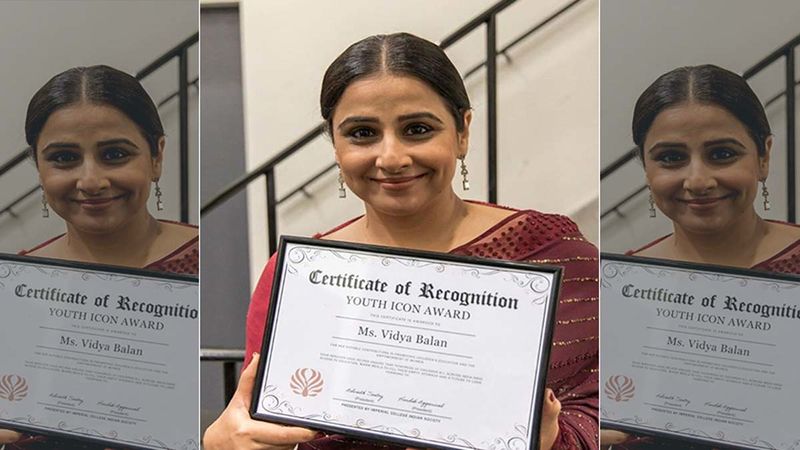 Versatile actress Vidya Balan is happy and over the moon. Want to know why? Well the actress has bagged yet another award and this time its saat samunder paar. Yes! The actress is conferred with Youth Icon Award by The Imperial College, London. Many congratulations dear! You deserve it. This happy moment came in the actress' career as she shot for her upcoming movie ShakuntalaDevi in London in the recent past. Vidya sharing a happy picture of her on Instagram penned the entire chapter of about this newest recognition.
In her Instagram post she mentioned about her visit to the Imperial College, London just for a meet and greet with the student. This visit turned out to be one of the most memorable ones for the actress; as the character she is playing onscreen of Shakuntala Devi made her historic calculation at this very institute. Ultimately entering her name in the Guinness Book Of World Records. She also thanked the institute for the warmth and recognition in her post.
Her post read, "So Thank you #ImperialCollegeLondon and Thank you some more for the #YouthIconAward ... its extra special cuz for the first time I received a Youth Icon Award from the Youth itself…."
Directed by Anu Menon and backed by Sony Pictures Network Productions and Vikram Malhotra, it is set to entertain the audience in theatres in 2020.
Image Source: Instagram/balanvidya