It is no secret that actress Anushka Sharma is an animal lover. The Sanju actress has often expressed her love for animals via posts on social media. Not to forget, her husband and ace cricketer Virat Kohli had started two animal shelters near Mumbai earlier this year and in his statement, he mentioned that Anushka's vision to help stray animals across India was truly inspiring for him. And, the actress's undying love for animals is seen yet again in her latest post.
Taking to her Instagram story, the Sultan actress shared a video where a man is seen trying to save an injured monkey by giving it emergency CPR. Originally shared by Ted The Stoner, the heartwarming clip shows the man resuscitating the unconscious monkey laying on the ground as the man performs mouth-to-mouth resuscitation. After several attempts, he gets successful in reviving the monkey. After the monkey gained consciousness, the man is seen holding him like a baby and smiling at the camera.
Sharing the video, Anushka posted a few crying emojis and that says it all. The video has gone viral on the internet with users showering praise on the man. Earlier, in August, the PK actress had dropped a video showing a Mexico street vendor feeding stray dogs. The post was captioned, "Faith in humanity."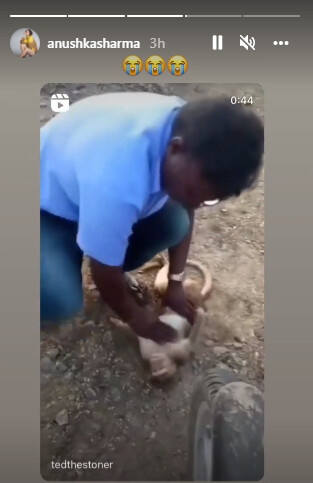 Image Source: Instagram/Anushka Sharma