If you follow Anushka Sharma on social media, you must be aware that she is an animal lover and always speaks up on issues pertaining to animal rights. Back in June this year, after the death of a pregnant elephant in Kerala's palakkad district, Anushka Sharma had called for stricter laws against animal cruelty. She was appalled and condemned the cruel act. Now, as ACP Sudhir Kudalkar formed a team of advocates to deal with animal cruelty, Anushka Sharma lauded him for taking the initiative.
Mid-Day reported that ACP Sudhir Shantaram Kudalkar formed a team of 20 advocates who will be helping animal lovers to file cases and guide the cops who refuse to register FIRs in matters of animal cruelty. Anushka Sharma took to her Instagram stories, and shared a screenshot of the news, and posted clapping emojis, and hailed this move by the ACP. While speaking to Mid-Day, ACP Kudalkar said that a lot of societies don't allow cats and dogs to enter their premises and animal lovers to feed them.
"It's a crime and people can be booked under sections 428 and 429 of the IPC and Cruelty to Animals Act of 1960. This is why I have set up a team of 20 advocates from across Mumbai, Navi Mumbai, Palghar and Thane to guide the cops and help them register FIRs," he said.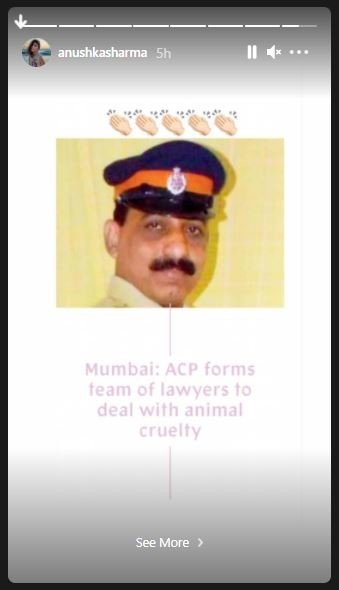 In other news, Anushka Sharma is expecting her first child with Virat Kohli. In an interview with Vogue, she recently opened up about having decided to keep the child away from the media glare.
Read more about it here.
Image Source: Instagram/Anushka Sharma