Twitter just came out with their annual report on what were the most influential moments and hashtags of 2016 and guess what made it to the top? It was Virat Kohli's tweet in support of Anushka Sharma after she was trolled on social media for his T20 performance in March 2016. "Shame on people for trolling @AnushkaSharma non-stop. Have some compassion. She has always only given me positivity," he wrote. The tweet went viral with over 39,000 retweets and the cricketer was lauded for taking a stand for his girlfriend.


It has been labelled the Golden Tweet of the year.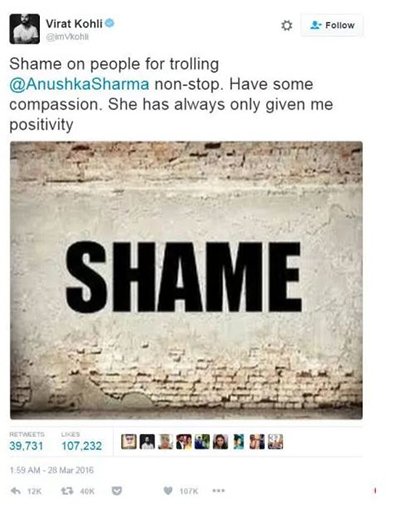 Also, in the list thanks to all the rumours that spread before the final event, the Global Citizen Festival was a much-tweeted-about event on social media. As Coldplay frontman Chris Martin performed a duet with AR Rahman for 'Vande Mataram', the electric moment lit up on Twitter with videos and photos from the 80,000 screaming fans reaching a global audience.

Apart from that, there were a lot of behind-the-scenes moments floating on Twitter for the 61st Filmfare Awards on January 15, which made it as one of the most talked about events on Twitter.

As expected, Narendra Modi continues to be the most followed person on Indian Twitter with 25.2 million followed by Amitabh Bachchan at 23.8 million. Shah Rukh Khan, Salman Khan, Deepika Padukone, Priyanka Chopra also feature in the list.