It's time again when Virat Kohli stands up for his ladylove Anushka Sharma and his relationship with her.
For the past two days, social media has been buzzing with the news of Anushka and Virat's engagement. People are constantly speculating that Anushka and Virat might exchange rings on January 1, 2017. The duo is in Uttarakhand to ring in the New Year with their families.
Before people on social media actually get them engaged through some photo shopped pictures, Virat Kohli once again stood up and rubbished the rumours with two simple tweets!
" we aren't getting engaged & if we were going to,we wouldn't hide it. Simple... (1/2)

— Virat Kohli (@imVkohli) December 30, 2016
(2/2)Since news channels cant resist selling false rumours & keeping you confused, we are just ending the confusion :)

— Virat Kohli (@imVkohli) December 30, 2016
Later on, an official statement from Anushka's spokesperson was released, stating, "No, the reports of Anushka Sharma, Virat Kohli's engagement is just not true. They are on a vacation."
It all started when few pictures of Anushka performing a ritual went viral and people started writing that Anushka is performing a Puja before her roka.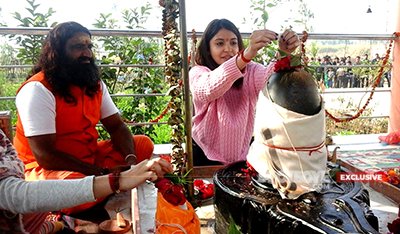 However, it was just a normal Puja which the actress was performing.
This is not the first time when Virat has taken a stand and clarified speculations related to Anushka and him. You may recall, there was a phase when Virat's performance was not at its best. At that time, people started blaming Anushka Sharma to be the reason for his distraction and poor performance. However, Virat shot back to his best form and scored fiery 82 runs against Australia earlier this year. After that match, social media buffs started trolling Anushka, thanking her for breaking-up with Virat.
Not the one to take things lying down about his ex (at that time), Virat in a strongly worded post, publicly lambasted all the detractors who trolled Anushka Sharma. He also stated that Anushka has always "motivated" him and given him "more positivity". A while back, when Twitter came out with their annual report on what were the most influential moments and hashtags of 2016, this very tweet by Viral was on No. 1 spot.
The tweet went viral with over 39,000 re-tweets and the cricketer was lauded for taking a stand for his girlfriend. It has also been tagged as the Golden Tweet of the year (
Virat Kohli's Tweet for Anushka Sharma is 2016's Golden Tweet, Dec 7
).
He stood up for 'her' then even when she was an ex, and now he has stood up for 'them'!


Image Source: APH Images