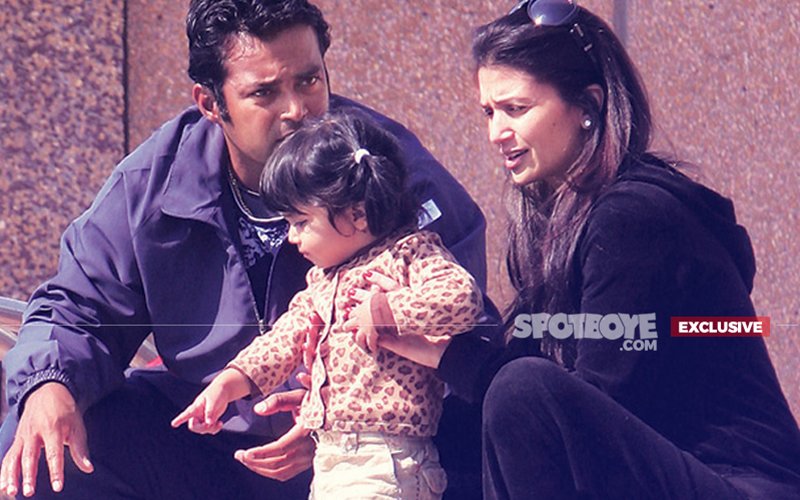 Tennis star Leander Paes and his estranged partner Rhea Pillai have been locked in a legal battle over domestic violence and maintenance of their 10-year-old daughter Aiyana. This afternoon, the Bandra Magistrate Court witnessed some ugly developments.

SpotboyE.com has learnt that India's tennis ace is paying only Rs 1.5 lakh per month to Rhea, while she has been requesting him to pay Rs 2.62 lakh (Rs 1.87 lakh for Aiyana's medical expenses and Rs 75,000 for herself).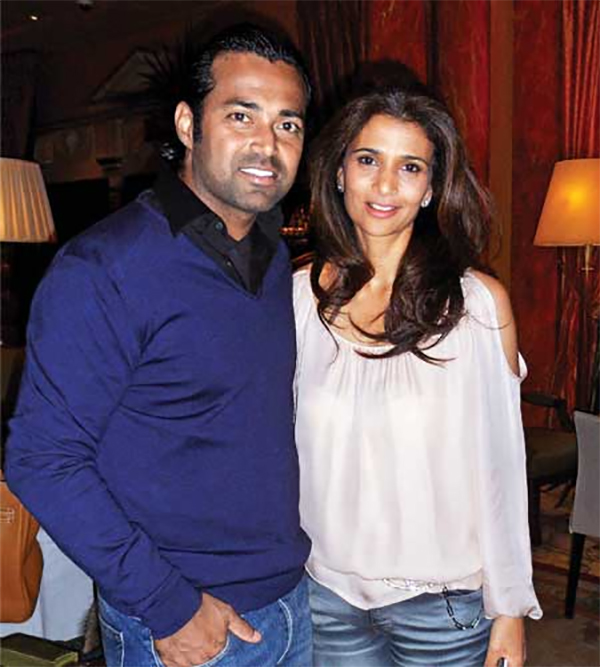 Leander Pais & Rhea Pillai In Happier Times

For those who thought that he will reconcile with Rhea when their daughter was diagnosed with brain tumour last year, this one is for you.

Buzz is, Leander showed little to no interest in reconciliation and the one-upon-a-time madly in love couple beat a hasty retreat in opposite directions soon after their daughter was discharged from the hospital. And now, Leander continues to fight the case on the grounds that since he had not married Rhea, she is not his wife and he need not comply.

It was further heard in the Bandra Magistrate Court that Rhea has become virtually insolvent. She has been borrowing money from friends. Two of her recent borrowed amounts add up to Rs 50,000. Rhea has been drained of all her savings. She was maintaining the house and daughter ever since Leander left her in 2009. He started paying her Rs 1.5 lakh per month only from 2014.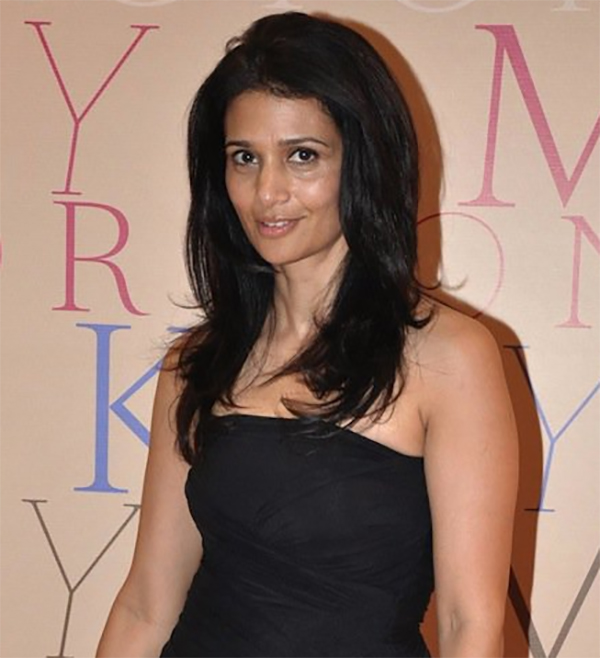 Rhea Pillai

While Rhea attended today's proceedings, Leander remained absent.

A friend of Rhea tells us, "What Leander is doing is just silly. Leander was living with Rhea as her husband from 2005, impregnated her with a child- and now says that he was never a husband. Anyway, Rhea has damning evidence against him which she and her lawyers will produce in the Court when it matters. The very fact that he was living-in with her is enough to nail him under the DV (Domestic Violence) Act."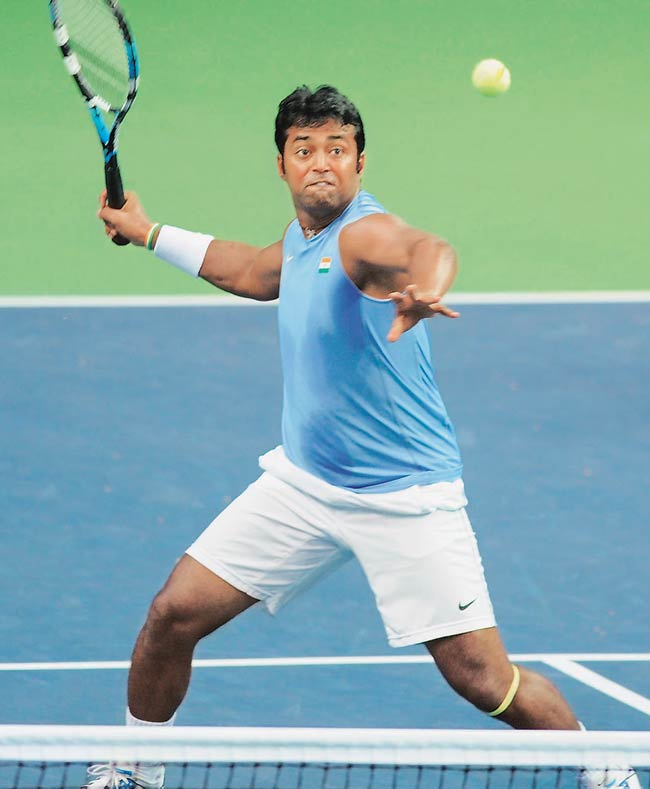 Tennis Player Leander Pais

The friend further says, "Aiyana is as much his as Rhea's. He is just shirking responsibility.."

Is Leander seeing someone currently? "Yes, he probably is (Rumours have been rife since August 2016 that Leander is dating a junior tennis player Tanvi Shah). But that's besides the point. From our end, it's just that Rhea is standing up for justice and their daughter's welfare," the friend concluded.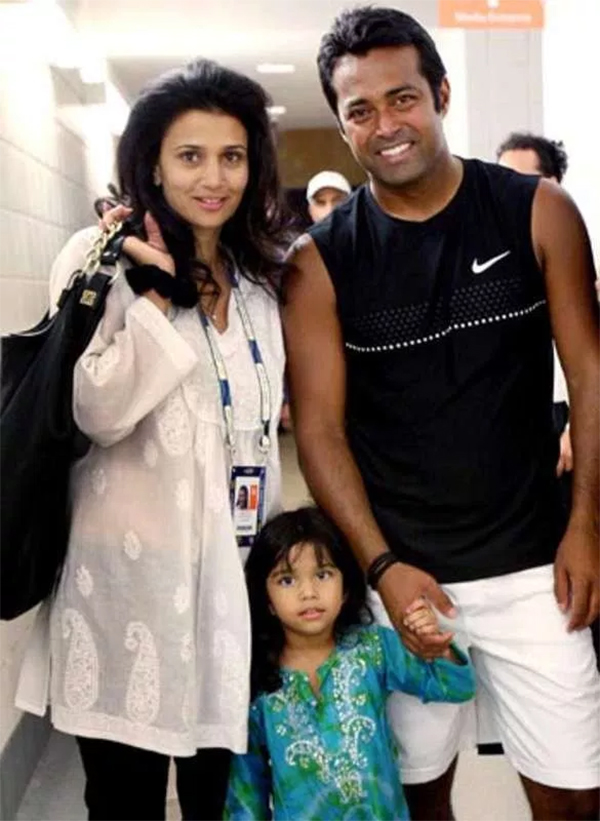 Rhea Pilli & Leander Pais With Daughter Aiyana

When contacted, Advocate Guunjan Mangla from Mahesh Jethmalani's team (who represent Rhea) confirmed and said, "The matter is under subjudice and I cannot elaborate."

After seeking divorce from Sanjay Dutt, the former model had moved in with Leander. They were in a live-in relationship for more than 10 years.

When Rhea-Leander marriage went on the rocks, yours truly who was with Mumbai Mirror then, had a long EXCLUSIVE chat with Rhea. I reproduce that chat (published on May 9, 2014) herewith:

Their love took flight in an aircraft en route Goa. Soon tennis ace Leander Paes and model and lifestyle coach Rhea Pillai became the most talked about couple of 2003. Rhea was still married to Sanjay Dutt then while Leander was fresh off a break-up from Mahima Chaudhary.

The bond was cemented when the two had a daughter in April 2006. But the once happy couple are now washing their dirty linen in public in a custody battle for their child. Leander started the court battle and in the petition claimed that that they were never married, "as Rhea did not believe in the institution of marriage thanks to her two failed marriages". Since last May, Leander's relationship with Rhea had hit rock bottom. It got worse on Thursday night when Rhea returned to their family home in Bandra and found herself locked out. Mirror caught up with her minutes before she left for the Bandra police station to file a complaint.

Excerpts:

So did Leander really lock you out of the house?
Yes, Leander locked me out. I'd gone with my child for a birthday party. Leader and his mother were running out of the building as I was entering. They even put my clothes in boxes and threw them out. Actually, five people had forcibly broken into my house once before too.

When did this happen?
I was away in Rishikesh. They hacked into my computers and took away sensitive emails and some of my photographs. As I talk, cops are with me in my house, so is my friend Gauri Khan. Thank God, my child isn't here. She is at Rani Mukerji's house. It is her niece's birthday.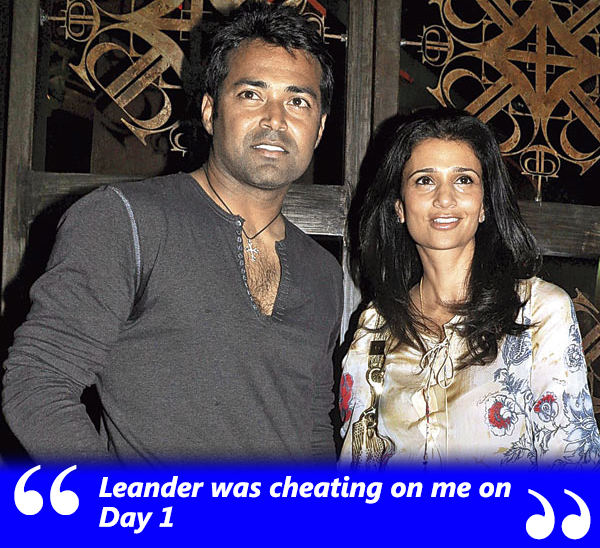 Leander has made many unpleasant allegations against you...
I know. He is so publicity hungry.

He says that you are wild, bohemian...
Fantastic, I love it! Ask him to prove these allegations. The court wants evidence. His lies hurt me but my truth will kill him.

He also says you have a volatile temper...
Lovely, can he prove it? And now he wants the custody of our daughter. Which court will give him the custody when he has hardly been involved in her parenting? He doesn't even know where she is at any point of the day. From her report cards you can see that she is doing well. I am involved in her academics while Leander is not in the country for more than six weeks a year.

When did things go wrong?
Nothing was ever hunky dory. I was just saving my marriage for the sake of my child. I had made peace with myself but there came a point when I decided that we needed to separate. His ego couldn't accept my decision.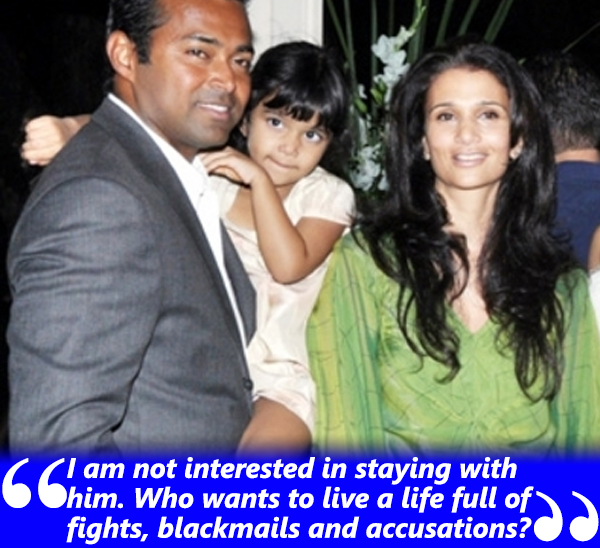 Was Leander cheating on you?
Yes.

Since when?
From Day 1.

He says that you lied to him about your divorce with Sanjay Dutt claiming that you got it in 2006 while the decree came through in 2008?
My divorce did come later but I did not lie to him.

Apparently, he wants you to leave the house now?
I am not interested in staying here. Who wants to live a life full of fights, blackmails and accusations? But first he needs to start a trust fund for our child's security. We will happily leave him then. But first behave like a responsible father, Mr Leander Paes.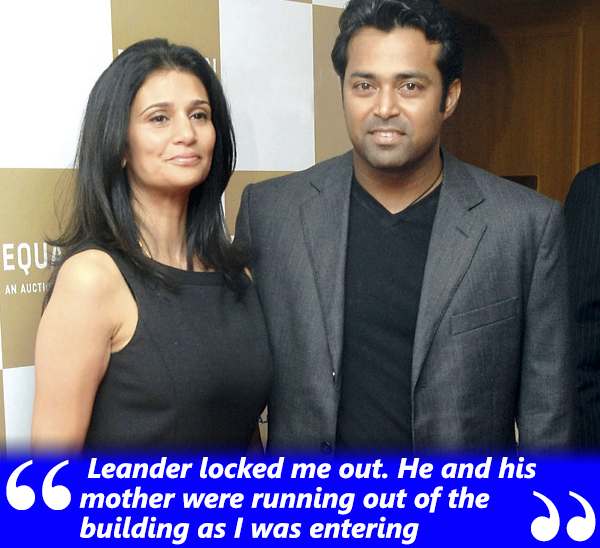 Such behaviour doesn't benefit a Padma Bhushan?
Ufff, do you know that he has been going around saying that I didn't allow our child to accompany him to the award function? Why would I do that?

Will you give the custody of your child to him?
No way, never!


Image Source: newscrunch, sussessstory, india, makeupandbeauty & shootout1