Ajay Devgn and Salman Khan's friendship was reportedly fractured by the recent revelation that both the stars will be making films centred on the Battle Of Saragarhi, a historical event which took place in 1897.

Karan Johar had announced that he is joining hands with Salman Khan to produce a film starring Akshay Kumar. Soon, the Bollywood grapevine claimed that the film will be based on the Battle of Saragarhi.

The news was reportedly not taken well by Ajay who in July 2016, had announced that the sequel to his 2013 release, Son of Sardaar will be a film titled Sons Of Sardar: Battle Of Saragarhi.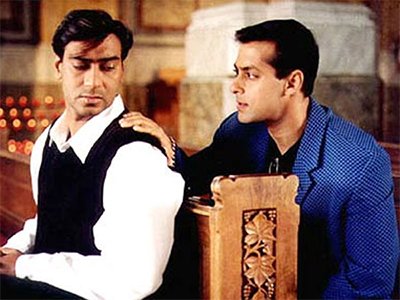 Image Source: theyouth

Soon enough, a much talked about news report claimed that Ajay Devgn was so upset by the development that he had sent out an emotional message to Salman Khan.

The report quoted a source, who said: "Ajay didn't believe the news initially. He considers Salman family and they've known each other for decades. When the truth of the news finally sank in, AJ couldn't contain his emotions. He sent across a emotional message to Salman, the same week as the announcement, through a common friend, saying he hadn't expected Salman to hurt him like this. He added that it was unfair of him to make a film on the same subject that he and his team had been working on for the last couple of years. He requested Salman not to do the same story if possible."

While Ajay had denied the story via a tweet, Bollywood grapevine was abuzz with reports that the long friendship between Ajay Devgn and Salman Khan had hit a rough patch.

But now it looks like all is well again between the two.

Salman Khan who is in Jodhpur to testify in the Blackbuck poaching case, drove straight from the court to the set of Ajay's upcoming film Baadshaho.

He reached there at lunch time and the two sat down together for a meal and had a long conversation.

Milan Luthria posted this picture of the two hanging out together:
We do not know what the conversation was about but Ajay and Salman's friendship looks like it is back on track.


Thumbnail Image Source: twitter/milanluthria