WHAT? Diandra Soares Advises Katrina Kaif To Embrace Age Gracefully
Ex Bigg Boss contestant Diandra Soares wrote a long post on her Facebook page about how women should accept their age gracefully. Interestingly, she tagged a picture of Katrina Kaif to put her point across...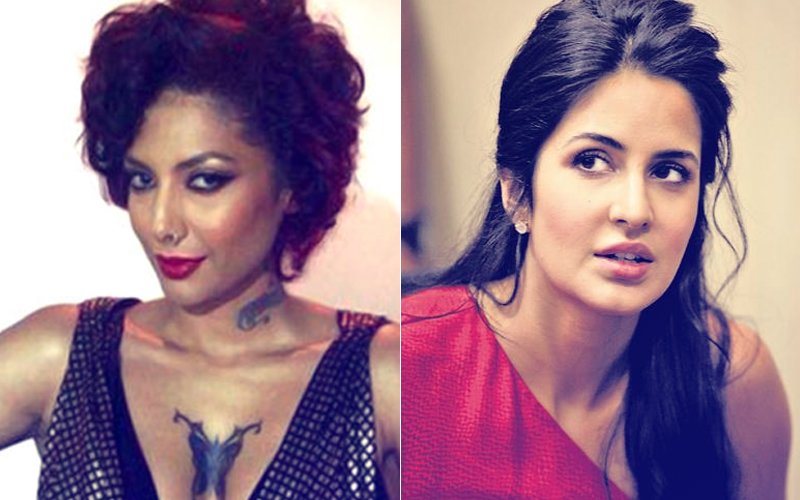 Last week, when
Katrina Kaif
stepped out to launch Jagga Jasoos' song
, little did she know that someone would give her a serious advise on her age! Ouch!
Ex Bigg Boss contestant, Diandra Soares is at it again! Although she has stated in her Facebook post, which talks about embracing age gracefully, that it's not a hate post for Katrina Kaif, still we're not too sure how positively will Ms. Kaif take these words of advice.
Diandra Soares picked up a picture of Katrina Kaif from the recent Jagga Jasoos event. Referring to it, she wrote a long post about women who run behind the idea of a perfect face and body and do not accept the natural process.
Here's what she wrote:
"Why ? Why ? Why ? Is everybody obsessed these days with this shit storm of being Ageless n this perfection idea of beauty??
Dear women,

Be proud of your age, be proud of your life experiences, be proud of your lines, be proud of your natural beauty, be proud of the unconventional, let's mature naturally ... there is no other like you... we are all so unique.... Let's feed our body n mind with love not with this bullshit ideas of beauty fed to us by magazines , people and social media... everybody is fighting a very natural process n messing with nature .... Looking so damn strange in the process. Messing a perfectly beautiful face n or body!

Also Its not a hate post for kat... I know her (n would even say this to her face ) its just that I happened to see this pic n her interview n it got me thinking ... as to why women are doing this all over the world . And even younger women are into it btw....!!!!
Be fearlessly Ageless by embracing it all gracefully...

PS: I AM 37 GOING ON 38 AND SO DAMN HAPPY& PROUD ABOUT IT!!!!
Be flawsomely AWESOME."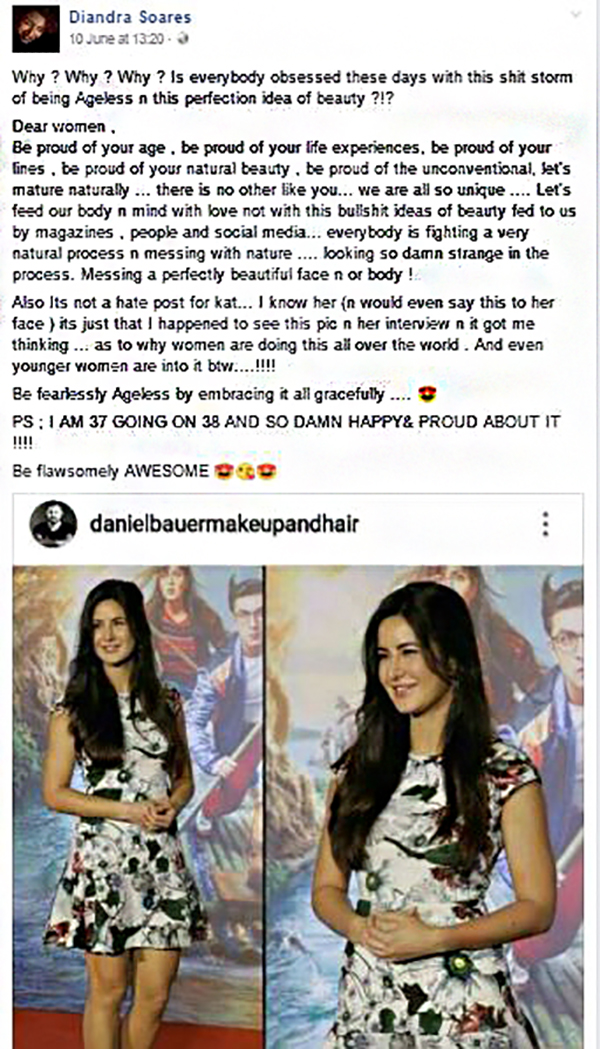 Diandra Advice To Katrina Kaif In A Facebook Post
Well, we don't know why Diandra chose Katrina Kaif as a case in example for her wise post, but it will be interesting to see what Katrina has to say to it, if at all she chooses to.
Image Source: facebook/diandrasoares & vk