On the occasion of Mother's day yesterday, actress Kajal Aggarwal shared a beautiful poem for her mother on her Instagram handle. However, the actress got slammed and was called out for copying a writer's poem as well as the caption and for not giving the credit to the original writer. The poem titled 'Dear Mum' was originally penned by Sarah, who goes by the name Matrescent Muse on Instagram. Digital creator Diet Sabya, who is known for calling out celebrities for plagiarism, called out Kajal.
In the now-deleted post, Sarah wrote, "My Dear Mum poem passed off as original work by @kajalaggarwalofficial. Even the caption is copied with a few words swapped out haha. If anyone has time to comment on her post asking her to give me credit, would hugely appreciate it!! Hopefully a misunderstanding…"She added, "If anyone has time to visit her page and tag me in the post, that would be great (folded hands emojis) for someone with this many followers it will probably get ignored but it's pretty disappointing! The weird copy of my original caption with a few words swapped out makes me think it isn't an honest mistake. @kajalaggarwalofficial."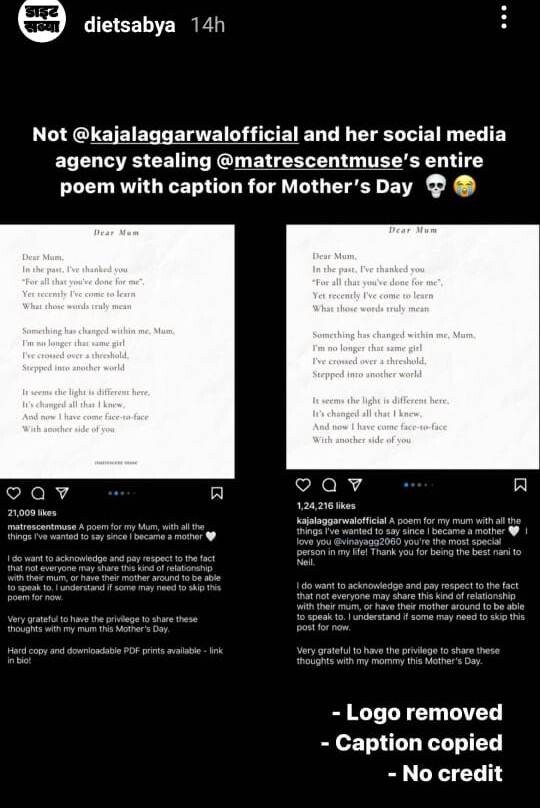 After receiving a huge backlash, Kajal edited her post and added the credit. She also disabled the comment section of the post.

In her post, Kajal had called her mother "the most special person" and thanked her "for being the best nani to her son Neil. The actress has also treated fans to the first picture of her son Neil on Mother's day along with a heartfelt note.