Bollywood's queen Kangana Ranaut often makes headlines for making controversial statements and for taking nasty digs at celebrities. In her recent series of posts, she talked about a Casanova and Womaniser who forced him on her and even alleged that his wife is encouraging this obsessive behaviour. While Ranaut did not mention anyone's name, netizens believe that she has targeted Ranbir Kapoor and Alia Bhatt. The Tanu Weds Manu actress also spoke about being followed by an actor who once came to her doorstep uninvited and tried to force himself on her.
Taking to her Instagram stories, Ranaut penned a note that read, "Everywhere I go I am being followed and spied on, not only on the streets even in my building parking and home terrace they put zoom lenses to capture me, everyone knows paparazzi only visit stars if they are tipped these days they even started to charge to click actors, my team or I aren't paying them so who is paying them?" She added, "In the morning I was clicked at 6:30am, how do they get my schedule? What do they do with these pictures? and now as I finished my early morning. Choreography practice session no one was tipped to come to the studio yet they all turned up in large numbers even on a Sunday."
ALSO READ: Anupam Kher REACTS to Kangana Ranaut Getting TROLLED Over Her 'Muslim Actresses' Tweet: 'Religion Ke Wajah Se Koi Film Dekhne Nahi Jaata'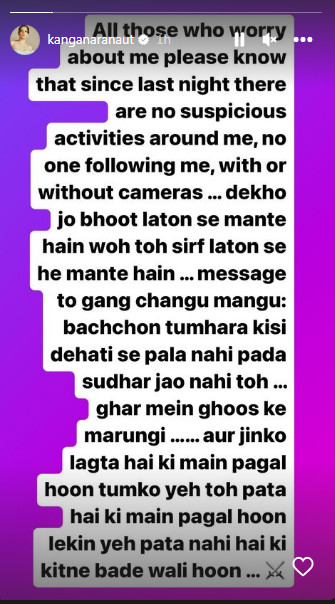 Her post further read, "I am certain my WhatsApp data is being leaked, professional deals or even personal life details, this obsessed nepo mafia clown who once landed at my doorstep uninvited and forced himself on me is a known womaniser and Casanova but now vice president of nepo mafia brigade as well forces his wife to become producer, do more female-centric films, dress like me even make home interiors like me they even hired my stylist and even home stylists of many years who then refused to work with me."

Ranaut did not stop here! She went on to state that an actor keeps his wife on a separate floor as they both live separately in the same building. She even claimed that his wife wore the same sari for her wedding that she had worn at her brother's wedding reception. Not to forget, Alia sported the same saree on her wedding that Kangana wore at his brother's wedding.
Her cryptic post has left everyone scratching their heads thinking if she has taken a dig at Alia and Ranbir.