WHAT! Kangana Ranaut Recalls When Editor Claimed She 'Mix Her PERIOD Blood In Ladoos' Sent As Diwali Gifts While Performing Black Magic-Read To Know More
Kangana Ranaut recalls when an editor accused her of doing black magic to get success in Bollywood and claimed she 'mix her period blood in ladoos'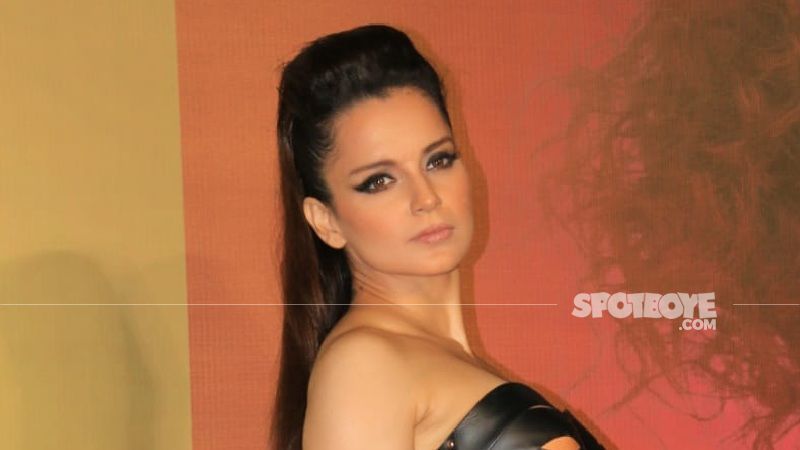 Bollywood's undisputed queen Kangana Ranaut is someone who does not mince her words. She often makes headlines for voicing her opinions on social media and for taking digs at celebrities. In her latest social media post, the actress recalled a time when an editor called her a 'witch' and accused her of performing black magic to get success in Bollywood. Not just that, he even claimed she mixed her "period blood in ladoos (sweets) that she used to send on Diwali as gifts.
Shocked right? So do us but Kangana made this shocking revelation in her recent Instagram post. She posted a video of spiritual guru Sadhguru where he spoke about how 200 years ago, women were burnt alive just on the assumption of being witches. Sharing the video on her Insta story, the 35-year-old actress wrote, "If you have super powers you will be called a witch...I was called a witch but I didn't let them burn me...instead I...he he he I must be a real witch wohahaa aabra ka dabra (fire emoji)." She added, "In 2016 one of the leading print editors @saritatanwar2707 wrote a piece in her paper that her investigative journo skills have landed her proofs of my black magic skills and she is more than sure that I mix my period blood in ladoos (sweets) that I send on Diwali to everyone as gifts ...Ha ha those days were fun, no one could figure with no filmi background, education, guidance, agency, groups or friends/boyfriends I made it to the top... so they all collectively came up with one answer BLACK MAGIC !!." ALSO READ:
WHAT! Kangana Ranaut Wears A Saree Worth Just Rs 600 Along With Dior Bag Whopping 3.5 Lakh; Actress Says 'Style Is Not Slave To International Brands'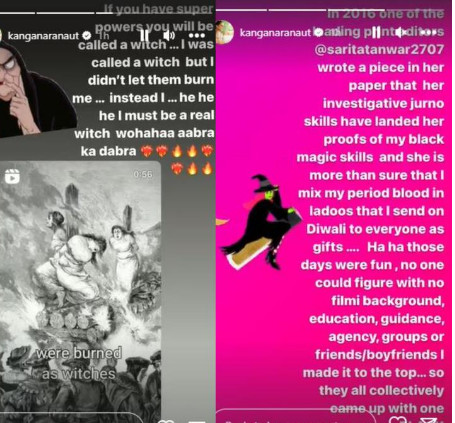 Not to forget, Kangana's ex-boyfriend, actor Adhyayan Suman had accused her of making him drink her period blood. Talking about the same, the Tanu Weds Manu Returns actress told NDTV that all such accusations don't upset her. She had said, It doesn't upset me when people call me names and talk about my period blood - but just don't call it gross. "Because there is nothing gross about period blood. When we think about periods, it's my ability to reproduce, it's my ability to give birth."

On the work front, she will next be seen playing the late Prime Minister Indira Gandhi in the upcoming film Emergency. She also has Tiku Weds Sheru with Nawazuddin Siddiqui and Tejas in the pipeline.