Who Looks Best In A Bikini: Sakshi Chopra, Kavita Kaushik Or Bruna Abdullah?
Sakshi Chopra, the great granddaughter of Ramayan creator Ramanand Sagar, TV hottie Kavita Kaushik and Brazilian model Bruna Abdullah are all showing off their figures in bikinis. So who wore it best?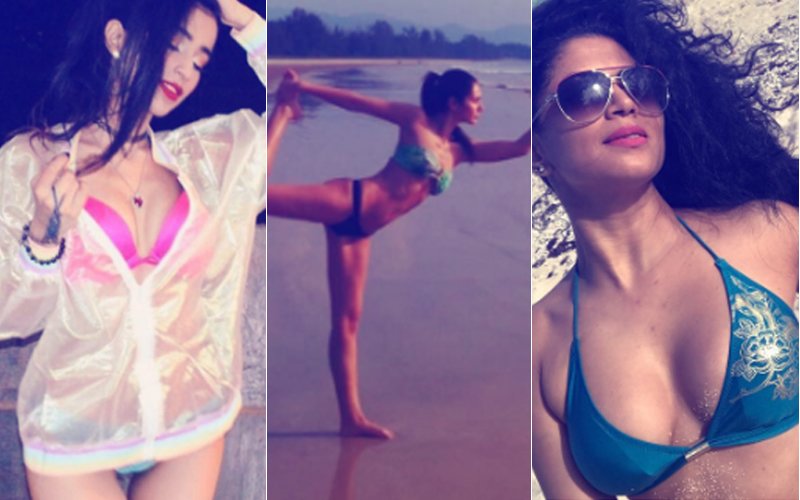 Sakshi Chopra, the great granddaughter of Ramanand Sagar knows how to grab eyeballs.
The 19-year-old hottie became an Instagram star with her risqué images where she is often seen flaunting her figure in an array of itsy-bitsy bikinis.
The teenager, who lives in Los Angeles, has now taken to Instagram to post a picture which takes her dare-to-bare act to a new level. Check it out:
Sakshi struck a pose showing off her toned derriere. She added the caption: "Bitches be mad cause their boy follows your IG."
Meanwhile, FIR star Kavita Kaushik
is currently holidaying in Mauritius and posted a picture of her frolicking on the beach. And interestingly she used the caption to announce that her breasts are real.
Kavita captioned the picture: "The Mauritius tan is the best in the world ! Someone wise said few days back that people get very angry to see a woman comfortable with her body ! N if u tell them that her boobs are real then it's the women who get angrier !! Haha make em angry then #nofilter #allreal (sic)"
The model-actress was on a beach in Thailand when she decided to do a yoga asana while clad in a colourful bikini.
So who wore it best? Let us know in the comments.
Image Source: Instagram/ikavitakaushik, brunaabdullah, sakshichopraa