"I am not comfortable discussing my life on national television", said John Abraham when a section of media recently asked him about not appearing on Karan Johar's Koffee With Karan.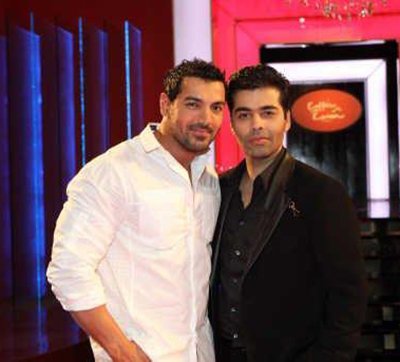 Image Source: mediaresources
Well yes, a few months back when Karan kick-started his chat show, there were speculations as to who would appear on his show. John Abraham was one of those who was expected grace Karan's couch as Karan and John's bonding goes back in 2008 when KJo gave John a big break with Dostana, starring Abhishek Bachchan and Priyanka Chopra.

However, a few months back, John politely turned down Karan's invitation and said he would not come on the show. At that time, it was reported that John's denial is primarily due to his fallout with Krushna Abhishek on-the-sets of the show Comedy Nights Bachao Taaza. It was said that John is in no mood to appear on any television show post the Krushna Abhishek episode.

But that was not why John refused to come on Karan's show. The real reason for John turning down the invitation was his hesitation to talk about his private life in public. We all know that Karan Johar's show talks about a star's personal life- from break-ups to link-ups to the minute dirty details also, at times.

John is now a reclusive star who avoids paparazzi, social gatherings and talking about his personal life in media. After having a public break-up with long-time girlfriend Bipasha Basu in 2011, John has never spoken about his personal life in public. In fact, his marriage to Priya Runchal in 2014 was a secret affair.

So, appearing on Karan's show would mean spilling out a lot of personal details which he didn't want. Hence, John told Karan a 'No'.

Out of the 5 seasons of Koffee With Karan, John appeared only once in Season 3. Even then, John had come alone on the show.

Thumbnail Image Source: picworldzone/amazonaws