Chup Revenge Of The Artist: R Balki Silences All Critics With This Sunny Deol, Dulquer Salmaan, Pooja Bhatt Starrer!
Directed by R Balki, Chup: Revenge Of The Artist stars Sunny Deol, Dulquer Salmaan, Shreya Dhanwanthary, Pooja Bhatt and this Balki's beautifully cadenced blood spiller works as much as a thriller as a romance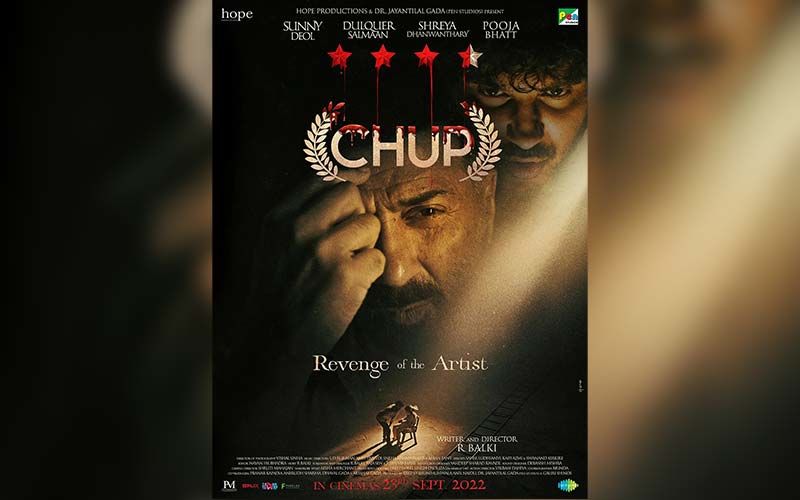 The very sound of Waqt ne kiya kya haseen sitam, Jaane kya tuney kahi and Yeh duniya agar mil bhi jaaye toh kya hai, playing in the background is enough reason to plunge into R Balki's latest offering. A tender-brutal-uncompromising-disturbing savagely funny brutally tragic thriller romance where Sunny Deol and Dulquer Salmaan play the most riveting games of cat-and-mouse seen in Hindi cinema.

While the vividly sketched characters play their own mind games, Balki and his excellent co-writer Raja Sen and Rishi Virmani are agreeably honest with us the audience. The identity of the serial killer is revealed minutes into the storytelling. In no time at all, I was no longer doing a body count. It didn't matter how many film critics the serial killer bumped off(as long as I was not one of them, haha). Balki's beautifully cadenced blood spiller works as much as a thriller as a romance.
Dulquer and Shreya make a fabulous pair. Balki shoots the romantic gaze in a flowery haze. Mumbai has never looked more intimate and cosy. Adding to the lustre of lyricism are the songs from Guru Dutt's cinema. The facility with which Balki lays out the carpet of nostalgia in the background is a textbox study on how to invest the past into the present.
Dulquer with his curly locks and mischievous grin is pitch-perfect as Danny a loner who doesn't mind if people catch him talking to himself. Shreya Dhanwanthary as Nila Menon an entertainment journalist who is crazy about cinema, Guru Dutt and her bylines(not necessarily in that order) have so much to give to the camera. It takes a Balki to recognize true talent.
Sunny Deol makes a rousing comeback. He looks every bit like the no-nonsense cop, except in the climax where he is made to respond with uncharacteristic daftness to a crisis.
It's not as if Chup is without its flaws. Pooja Bhatt's character as the over-wise shrink is underdeveloped. You may find yourself questioning some of the motivation for the killer's gruesome actions, also his surgeon's knowledge of and precision with the human anatomy are not explained. Internet education, perhaps?
But as always when Balki is good he is excellent. It is in the details that Balki's God lies.
And trust me, even the Gods lie in Chup. There is a poster in Nila's home which reads 'Woody Allen Is Innocent.'
Balki rests his case.
Rating: **** ½ (4.5/5)
Image Source: Instagram