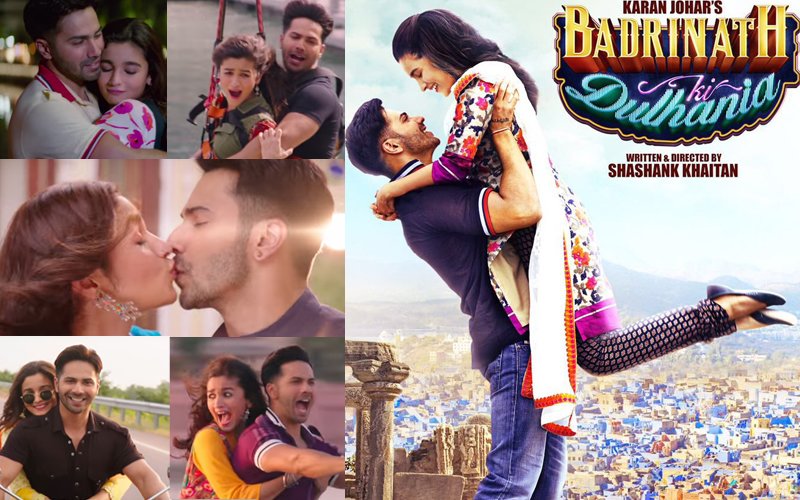 Seriously, B and his D behave quite deliriously. Badri Boy is from Jhansi, where he lives as if he's under phaansi (how his dad looks mad and sad). And the prospective Dulhania is a four-hour drive away, or so you're informed, in Kota where her dad struggles to earn roti, a mulmul dhoti, and a bathing lota.
Hence can the ladka and ladki bicker, snigger and inspect their jigars. Question is, do they at long last go through the saat pheras?
Taxing, very taxing this Badrinath Ki Dulhania marry-go-round is, scrawled and directed by Shashank Khaitan (yeah, yeah, earlier he piloted Humpty Sharma ki Dulhania which, comparatively, was quite a fun flick actually). The second edition of the franchise, however, is so heavy-handed that it's about as entertaining as carrying a sack of hundred kilos of rice. Uff you maa, help please.
To be sure Khaitan saab's intentions are pretty noble, critiquing the deathly dowry system, jabbing in elements about women's natural right to follow a career after marriage, and tut-tutting the prejudice against the birth of a girl child. Like it or nought, in the process the outcome is a cat's cradle of confusion, an awkward blend of a romcom and a post-feminist tract. Truly, at every twisteroo of the plot, there's more confusion than clarity.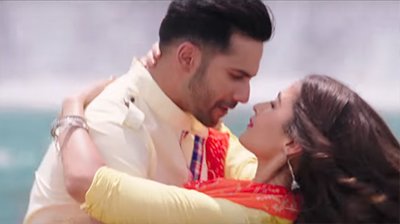 Image Source: youtube/DharmaMovies
Fatally, the characterisation of the Dulhania aka Vaidehi (Alia Bhatt) hardly evokes your empathy. Self-centred to a third degree, she cares a hoot about ditching love-struck groom Badri (Varun Dhawan) at the shaadi mandap even if he's coughed up loads of cash to facilitate the shaadi of this matlabi heroine's sister. Crafty, very crafty.
If Vaidehi doesn't have regrets about losing her dad's lakhs of rupees in a botched-up business enterprise, that's pretty strange too, isn't it? Seemingly, all she's obsessed with is a career as a high-flying airhostess. Result: she leaves helluva lot of hearts and minds broken in the quest of her ambitions. Mean gal.
At the other end of the spectrum, you don't quite know what to make of Badri either. He can be an adorable Simple Simon and he can be a ghastly goon beating up guys quarter-his-size when he has to recover debts on loans advanced on usurious interest. A weird combo of Govinda and Bachchan Sr, he laughs, cries, and alternately looks marshmallow-soft and tougher than premium-quality timber. Go configure.
Anyway, the mind-spinning scene shifts from Jhansi-Kota to Singapore, after a brief stopover for fuel in Mumbai. Badri stalks Vaidehi who's now working for SilkAir (yaaaay but wazzat?). He loves her, he hates her, he loves her. In the process he's almost bungee-dropped into jail by a S'pore cop (Gauhar Khan in an oddball cameo) and believe this, almost raped by masked gays in a Singapore back-alley. Funnneee? Not really. Meanwhile, Vaidehi gets all gooey and apologetic about her misdemeanours – too late in the footage, tsk – and realises that Badri boy is "cute" and even says so.
Over to the finale, then, back in Jhansi, a segment which is as old-fashioned as bell bottoms. Suffice it to reveal that the entire supporting cast assembles in a studio lot, and seem as perplexed as you are in your multiplex seat. How you shudder despite the 'plex usher clothing you with a woolen blanket.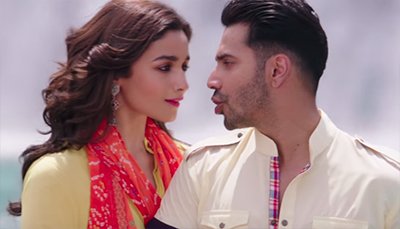 Image Source: youtube/DharmaMovies
Who're the other characters, you might want to know. Well, there's Badri's sidekick with a Madhubala hair-style who strives to rustle up comedy (in vain), B' and D's daddies (both carry oxygen tanks to breathe) and assorted ladies wearing costumes belonging to a vintage saas-bahu TV serial. Not to forget Badri's bada bhai nicknamed Devdas (Grim Expression) who's quite happy with his arranged marriage but still drowns his sorrows in tumblers of whisky. To feel frisky or what?

See, everyone in real life is full of contradictions but in this Bollywood shaadi-land, they're haphazardly written to the point of appearing schizophrenic.


Believable motivations, plausible career graphs and plain logic are sorely conspicuous by their absence.

Technically serviceable, the enterprise required a firmer editor though. A seaside spat and then let's-patch-up brouhaha, between boy Badri and his sidekick, fishes for profound existential statements which merely slacken the pace.
As for the music score, only the the remix of ye olde chartbuster Tamma Tamma, has some zap and zing. Ping. That's it.
By the way, the cross-references to hit films and A-list actors is becoming much-too-overused of late. Ergo, the allusions to Shah Rukh Khan, Hrithik Roshan, Deepika Padukone and more. Enough, guys. Let your film speak for itself instead of these in-jokes, puh-lease.
None in the supporting ensemble can be singled out for a thumbs-up. What BKD has going for it, at most, are its lead players. Despite being handicapped by ill-conceived part, Alia Bhatt is as spontaneous and pixiesh as ever. And Varun Dhawan re-establishes a charismatic screen presence. Handling his mood swings ably, he is particularly impressive in the climax which could have become laughable under an out-of-control actor.
Conclusion: For Mr Dhawan, Ms Bhatt and the effort to be cause-oriented, Badrinath Ki Dulhania gets half-a-star above average. Go for it, especially if you're game for shuddering for 140 minutes under a multiplex blanket.

Thumbnail Image Source: youtube/DharmaMovies & twitter/Varun_dvn