Chalo Agra, not for a tour through the Taj Mahal though. Instead, check out the Life Paradiso of a shoe-maker and his dear darling daughter who reside in a pretty house. Yonkers bonkes, be warned then, ugly things happen
.A mega-chiched blood-curdling revenge melodrama ensues. That's Bhoomi directed by Omung Kumar. Sad to say but there isn't a sign of umang or tarang in this hmmm-comeback vehicle for Sanjay Dutt.
Curiously, the actor had gone through a similar grisly vendetta spree in Mahesh Manjrekar's Pitaah (2002), sourced from the Samuel L Jackson role in Hollywood's A Time to Kill. However, since public memory is conjectured to be short, why not go through the same rasp-gasp-kill-those-evil-asps-route again? Pain.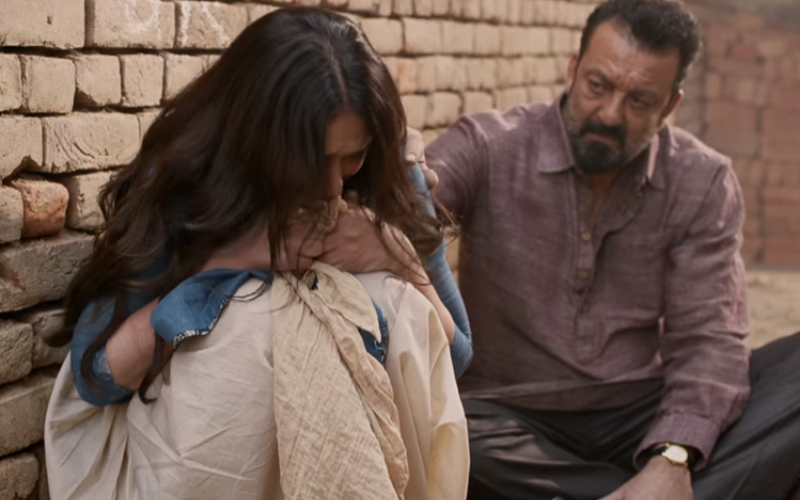 Sanjay Dutt And Aditi Rao Hydari In Bhoomi

In fact, elements from Liam Neeson's Taken series can also be detected. More fatally, Omung Kumar whom you might remember as the digdarshak of Mary Kom, doesn't display any legible signature of his own, hacking out scene after scene without any pointers towards an original style or spleen.
What to do? Now, you're stuck with shoewalla Arun Sachdeva (Duttji) and beti Bhoomi, (Aditi Rao Hydari) affectionately called betu at times. Time chimes. She's to be married off to a chocolate bar (Sidhant Gupta) quite soon. Enter a gargoyle goon (Sharad Kelkar) from the vicinity. Accompanied by a cabal of creepos, he has nothing better to do than to issue threats and harass apni Bhoomi betu. In the event, you won't be awarded a merit certificate for guessing that she's gang-raped.
Next: Her dad transforms into the red-eyed Sanjay Dutt of yore, gnashing his teeth, bashing the baddies and even delivering an ironical monologue in the courtroom, where you bet the due process of law is twisted into pretzel-shape. To keep in sync with today's times of women empowernment, feminist asides and lines of dialogue are a must, highlighted in the over-the-top drama's wrap-up. The trouble is that these amount to mere tokenism.