Yum,just for starters don't be glum. Life's as sweet as a mango. The hero here can cook up a delicious Vegetable Kolhapuri, rescue his lady love from a jampacked shopping mall and break into a neat tango. So what if the script is poised to become as macabre as a story by Edgar Allan Poe? Oh oh.
That's typical Sanjay Gupta Gyan, pleasure precedes pain as it does in all of his films (the last one was the jeepers creepers Jazbaa). And as it happens, Kaabil, is no exception to this director's 'aao revenge karen' rule. A morsel of dialogue goes to chant the ancient proverb about how an "Eye for an eye" can be sweet. Perfect material for a troll-worthy tweet. Sorry but in this day and age, I beg to disagree.
Grabbing the law into one's hands, showing a rape victim resorting to suicide by hanging, and at another juncture, such lines are dribbles as, "This couple is so fair and lovely. They will have gora gora children." These elements are severely outdated if not regressive.
And what's with the Bollywood movies anyway? Everyday speak is littered with bombastic punch-lines. Examples" "Darkness cannot light up darkness" and "A dog is loyal even if it has to chew on a bone. So don't you dare expect a boneless meal." Strange to say the least.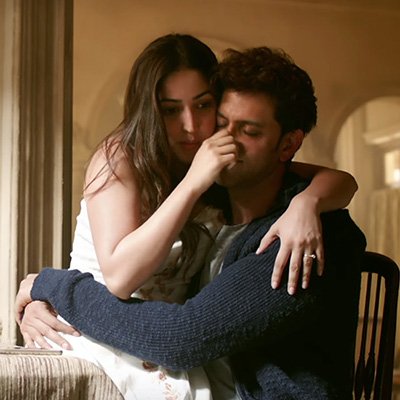 Image Source: youtube/FilmKRAFTfilms

Indeed Bollywood's gone stir crazy on meaty dialoguebaazi. And come to think of it. this vindaloo is just another tough-to-digest Sanjay Gupta vendetta fest – killings carried at out warehouses, fatal slug-outs at building construction sites and an innocent butcher being stabbed in the tummy at a boulder-studded spot. Located in Mumbai, the usually buzzy city appears to be sound-proof to cries of help, screams and any tender mercies. Our maximum city just snores-'n' sleeps through dastardly deeds being committed within ear shot. Now really.
Okay so even if you suspend your sense of disbelief, first of all you will have to slap yourself to say, come on, this is just a movie. Make room for dramatic licence dude, just don't think about those online reports tracing the Kaabil story to the Korean flick Broken and the Netflix series Daredevil. And maybe you can snooze through an item number in a hi-fi club which actually resembles the defunct Capitol cinema. Still, all these forgiveness factors can't connect you to actually rah-rah the ouchcome.
Frankly, a pall of gloom descended over me. Primary reason: neither producer Rakesh Roshan nor the unarguably gifted actor Hrithik Roshan needed this.
Whatever possessed the Roshans to opt for this project which harks back to the jawbone-for-a-jawbone blood-curdlers of the 1970s and '80s? Maybe it was viewed as an opportunity for Hrithik to play an empathetic, visually-impaired David who turns Goliath in face of gross injustice. But then hasn't he enacted the challenging quadriplegic before in Guzaarish? Or maybe there hasn't been a badla movie in ages. Er, say cheese but what about Badlapur please?
Any which way, to be absolutely honest my heart and unshed tears went out to Hrithik. He's a tremendous, meticulous actor who strives to breathe conviction into every minor and major scene. Snag: the scenes have an excruciatingly fake quality about them like a Rs 300 currency note. Sad.
So there you are with Rohan Bhatnagar (Hrithik, natch) who after a brief courtship weds Supriya aka Sue (Yami Gautam), also visually impaired. The backstories for their sightless condition is kept under wraps. Not necessary in these fast-paced days, presumably.
Next: the mohalla baddies (Rohit Roy and an Expressionless Wonder) heckle the newly-weds and subject the bride to rape, not once but twice. Rohan, who's a dubbing artiste incidentally, now has to employ his flexible vocal chords, mental astuteness and miscellaneous sensory faculties to teach the twosome a deadly lesson. Quite stealthily achieved.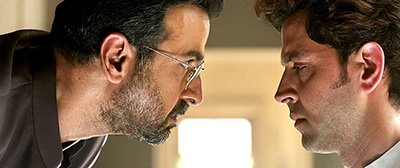 Image Source: youtube/FilmKRAFTfilms

What no tension and terror? You bet there is. After all one of the baddy's brother (Ronit Roy) is one of those teeth-gnashing politicians who has the cops in his coll kurta pockets. And hello, if there's a semi-honest police officer, he's tempted with an almirah full of money. Look closer though, half the almirah is stacked not with cash but fat files. No wonder the honest Mr Khakhi, pooh-poohs the bribe. May there be more of this tribe.
Devoid of a sub-text altogether – unless you can detect some jumbo mumbo about the politician threatening to engineer communal clashes – technically, too, there's too much artifice like the recurrent shots of a sealine supported by visual effects tetrapods. Or were they cardboard? The editing goes for old-fashioned wipes at one point.
Moreover there are contrived 'plants' galore – a child's bicycle, a wrist-watch and the establishment of an open hole at a construction site which are recalled in the event of dire crisis. Come on Mr Gupta, smell the espresso. Such elements are as jarring as the bewigged and faux-moustached police inspector (incarnated with gallons of gravitas by Narendra Jha). Alas, the performances of Yami Gautam and the supporting cast range from the serviceable to unimpressive.
A word of caution here: I'm no trade soothsayer. Bollywood movies come with their own destiny and fortune. Strictly for the sake of Hritihik Roshan, who invests seamless conviction and expertise into the vulnerable Rohan Bhatnagar, I wish Kaabil is a commercial upper. Quality-wise, Kaabil, left me igloo cold.
So would I recommend a look-see?: For Hrithik yes, for the rest of Kaabil NO.


Thumbnail Image Source: youtube/FilmKRAFTfilms
They say the best things in life are free! India's favourite music channels 9XM, 9X Jalwa, 9X Jhakaas, 9X Tashan, 9XO are available Free-To-Air. Make a request for these channels from your Cable, DTH or HITS operator.