First, the yaay-and-the-yippee news: the style is audaciously experimental. Here's a musical with more dhinkachika than ever evidenced, be it in the ye olde Hollywood song-and-dance MGM studio and Busby Berkeley extravaganzas. Or for that matter, even in our own Chetan Anand's blend of poetry and prose in the vintage Heer-Ranjha. From a cursory count, I could detect 29 if not more, gaana-bajana flourishes in Jagga Jasoos.
Second, the intensely-anticipated cloak-and-dagger rom-com, written and directed by
Anurag Basu
, can boast of a terrific bouquet of roses-like performance by
Ranbir Kapoor
, who dares to venture into an area of lightness devoid of formulaic conventions. You can't take your eyes away from his antics, whether they're zanily frantic or emotively intense.
So far, so wonderful. Now for the oh-no-no news. For the rest of the way your patience is taxed to a giddy limit. Indeed, you want to cry out loud, "Bandh karo yeh naach gaana!" If Mr Basu has a story to tell, get to the point. All the sweet and smarmy stuff on display aren't quite in the league of the memorably narrated Barfi! Awfully self-indulgent, the writer-director seems to be wasting limitless resources, hare-brained ideas and conceits to zero-effect.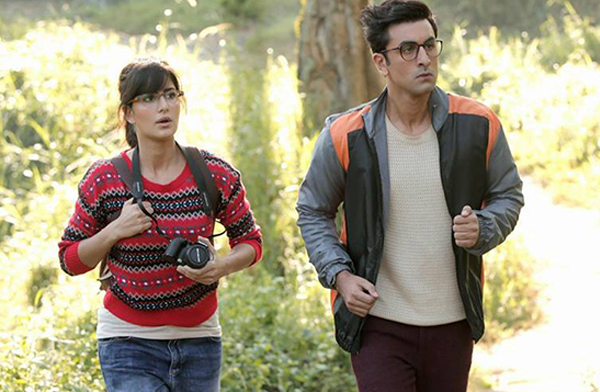 Ranbir Kapoor With Katrina Kaif In Jagga Jasoos
Evidently, derivative of the comic book adventures of Tintin, created by the Belgian caroonist Georges Remi, the ouchcome is a bizarre cross between an action flick and a fantasy frolic calculated to appeal to children. Throughout its megathon length of 2 hours and some 47 minutes, you're left askance, wondering -- erm whom or what is Basu striving to connect with? Could this film be catered towards an audience of one, himself?
Be that as it may, the focus is on a hilltown's schoolboy, Jagga (Ranbir Kapoor), who cannot deliver dialogue since he's impaired by an incurable stutter. Instead, he can sing the blues, pop and faux reggae till kingdom come. Funny? Not quite.
Anyway, Jags sets out to hunt for his missing foster daddy (Saswata Chatterjee) who may or may not be involved in the Purulia arms drop, circa 1995. Shiver my timbers,there's an entire section about war weapon deals, an allusion to the independence struggle waged by Netaji Subhash Chandra Bose, plus a duplicitous secret service officer enacted by Saurabh Shukla, who for some wacko reason is frequently allocated a scene in a bath tub. Glug.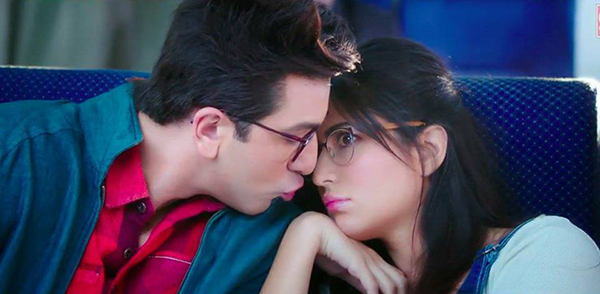 Ranbir Kapoor And Katrina Kaif Share A Cute Moment
Ever so sadly, the plot seems to have been written on chits of paper during squally weather. Anything goes, be it the bizarre, the boring or the imitative. In the event suspension of disbelief doesn't help a bit. Combat sequences are lifted straight out of the Indiana Jones movies, Romancing the Stone and there's much ado in a clocktower, pretty reminiscent of Martin Scorsese's Hugo.
Hell's bells. In that search for missing dad, Jagga is joined by a calamity Jane of a newspaper reporter (
Katrina Kaif
), now and then by a cop who sits in front of half a dozen telephones and doesn't know which one to answer, not to forget a supporting ensemble of bewildered ostriches (one of them even lays an egg in a hurry), giraffes, zebras and help, even a hungry tiger cat.
Curiously, instead of a straight, solid dramaturgy, the non-story is told by the Calamity Journo, in elongated flashbacks to a classful of eager beaver children. Why fracture the already-fractured narrative? Worse, the editor permits an entire dull sequence to be repeated soon after the interval. Why? Maybe Basu believes the audience suffers from instant memory losses. Strange.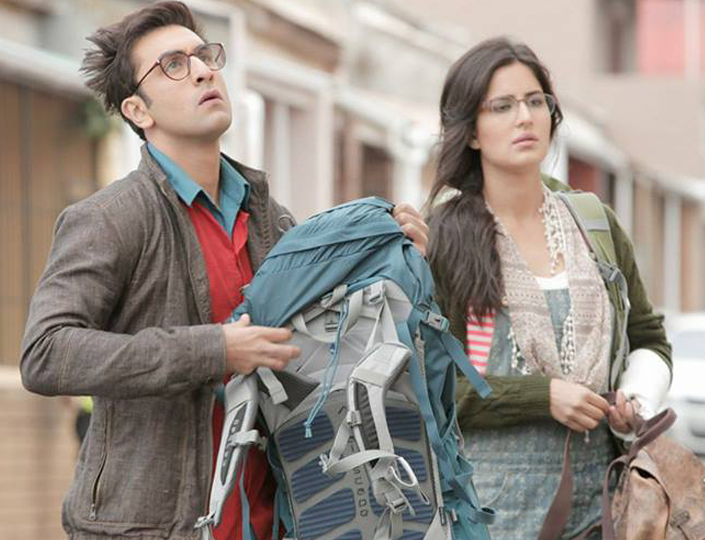 Katrina Kaif Plays A Reporter In Jagga Jasoos
Criscrossing between Kolkata (which means you will see trams), and Manipur to exotic overseas locations, Jagga Jasoos is bitten hard by the travel bug. The after-effect, though, is close enough to a severe jet lag. Frankly, towards the finale which leaps into an airplane equipped with fluffy pillows, you might want to catch a shut-eye yourself. You're that exhausted.
On the upside, Pritam's excessive music score yields at least two peppy numbers Galti Se Mistake and Ullu Ka Pattha, which are imaginatively choreographed by Shiamak Davar.
The cinematography by Ravi Varman and the sound outlay by Ashwin Bharde and Shijin Melvin Hutton are first-rate. Not so the VFX and colour coding, which are obtrusive and inconsistent respectively.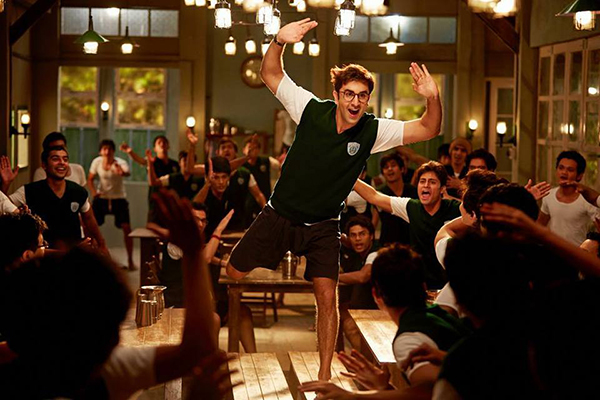 Ranbir Kapoor In Galti Se Mistake
Of the cast, Saurabh Shukla sleep-babbles. Katrina Kaif has her few deliciously madcap moments. Incidentally, was it essential to foist in a line of dialogue about her being educated abroad, to justify her incorrigible anglicised diction? As Shruti Sengupta, a Bengali journalist, she is about as a believable as "finding the Taj Mahal in Kolkata" (to snatch an odd nugget from the screenplay).
For sure, Ranbir Kapoor is dependably engaging and lovable (thus, the extra half-star in the ratings). The rest of Jagga Jasoos isn't. Clearly, the actor deserves to be seen in far more expertly conceived and directed projects, and not muddle-class ones.
Image Source: youtube/t-series