Get this. A mirchi-eyed young woman is told, "It's in your DNA, you're configured, women are born to be spies." Huh?
Asks she toughly, "Are you recruiting me because of my religion?"
"Yes," it's confirmed. "You people have easier access to those people and their places (meaning terrorits and their hideouts)." Duh?
I couldn't believe my eyes, ears and the remnants of my salt-n-pepper cells throughout the 148 minutes of Naam Shabana, directed by Shivam Nair with the writing credits accorded to Neeraj Pandey, the current flavour of the season. Intended as a prequel to Baby, here's an espionage prequel that had me squirming, feeling like a worm which should have stayed under. Yaarrgh aa rahi hai, really.
Many reasons for this. Apart from the freaky, supposedly feminist dialogue, the malarkey compares poorly to Jeetendra's Farz, the Mithun Chakraborty Gunmaster G-9 jasoos series. Plus, the movie's is a close cousin to the French flick Nikita about a femme fatale trained to be an assassin or go pale for life in jail. Wailllll.
And whoa, you might flashback, also, to Sunny Deol yelling, "Mere bhai ko maar daala" on Mumbai's (unbelievably) deserted streets. Only it's Ma'am Shabana (Taapsee Pannu) crying out loud, close to the Asiatic Public Library, moments after the killing of her sweet-as-halwa boyfriend. Now okay, okay you might yell out loud yourself, "Never mind the stale stuff. As long as the mash-up entertains, who cares a flying fig?"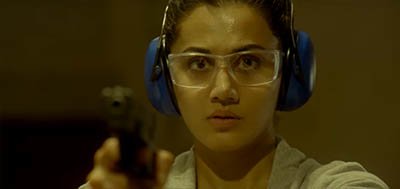 Image Source: youtube/bigpictures
Your call truly. On my part, this Naam Shabana doesn't serve as any kind of bahana to trot over to the 'plex. For starters, sure it's a welcome change to be in the company of a woman, who brooks no nonsense and is about kickass as they come. Er in her teens, she'd even bashed her creepy abusive father to death. Ulp gulp, didn't I evidence Priyanka Chopra sorta doing this to her pitaji in Quantico? Ah, never mind.
So what's digdarshak Shivam Nair bhai up to? Inevitably, tilting down from a mosque's minaret, he escorts us into the perilous life of dear Shabana Khan. She has to avenge her boyfriend's death. The policewaalas are too busy heh heh. Next: Abracadabra, a purse-lipped desh bhakht (Manoj Bajpayee) from the National Security Agency, equipped with a bluetooth device, orders her to go to an Irani café. Here she orders a particular cola brand for some in-movie product placement. No, no, she's not being trained to become a cola model. If she wants justice for that slain BF, it seems she must become an espionage agent and fast. Mata Hurry anyone.
Next halt: Goa where vengeance and a dekko at a Zoo-be-zoobe-zoo item number (strangely without an 'item) are hers. Over to a zip-in, then, to Vienna and zip-out to Kuala Lumpur. Target: an international crook (Prithviraj Sukumaran) who has a fetish for plastic surgery. Changes faces he, faster than the bikinis sported by his 'Russian' doll molls. Moanwhile, the Bluetoothed security chief displays a fetish for posing before
Hotel
Taj Mahal's dome (in VFX, back-projections) and hissing out spying strategies galore. Bore.
Strategy No 1: guest star Akshay Kumar, unnecessarily decorated with a crow-black toothbrush moustache, whose one-minute claim to fame out here happens to be a bubble bathtub scene in the company of one of those 'Russian' molls. Oh yeah, he also crashes through enormous glass panes just the way he used to in the Khiladi Klassics.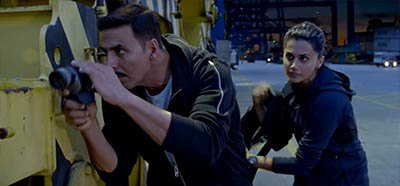 Image Source: youtube/bigpictures
Hellzapoppin'. Post-interval dear Shabana goes missing for quite a while, what with sundry male 007s taking over the scene, including an orange T-shirt whose gall-bladder is about to burst. On seeing the International Crook smooching a moll, complains he, "My organs are feeling mixed up." Eeeesh.
Devoid of a smidgen of slickness, a must for thrillers, the outcome is like being held captive in a torture chamber, aggravated by the pounding background music, tacky set décor, the usual aerial shots, papyrus-thin plot and humdrum direction.
Of the cast, Manoj Bajpayee strikes up sizzling chemistry with his Bluetooth.
Kerala's Prithviraj Sukumaran as the papa of all baddies, does exude fire-and-ice menace expertly. Undoubtedly, Taapsee Pannu is inspired as the angry young woman, thanks more to her expressive eyes than the physical slug-outs.
The performances are impressive enough. Anupam Kher and Danny Denzongpa in cameos are nicely tongue-in-chic. And that's it.
For the rest of the way, Bollywood's retort to the genre of Bondish and Bourne Ultimatumish movies, is a pain. Pure brain drain.
Thumbnail Image Source: naamshabana