Opposites attract, and sometimes distract. You know that already. Now, the USP of this road movie is the fact that it elects to pick on a twosome who aren't exactly in the flush of their youth. Whoa, they're even long in the tooth. And thank the lord for that. Any which way, the middle-aged duo manage to exude that lost quality called joie de vivre. Or the lust for life. Nice.
So, voila. Director Tanuja Chandra returns after a hiatus of a decade with Qarib Qarib Singlle (don't ask me why the extrra 'l' in the Single), to check out the more positive aspects of online dating – and maybe who knows? – soulmating.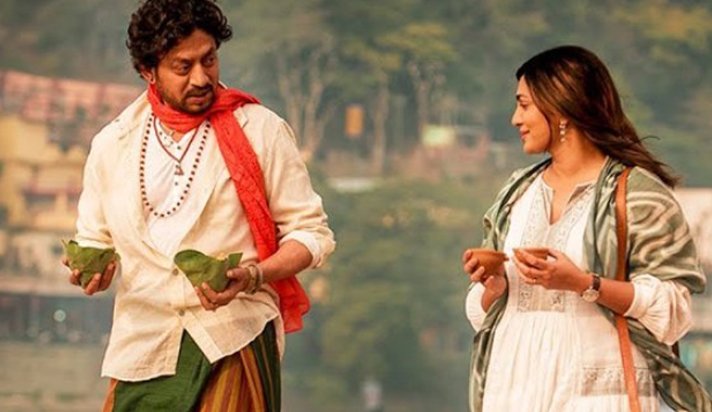 A Still From Qarib Qarib Singlle

Clearly a sensitive directorial style alloyed with wryly humorous touches, had to be employed for the dramatury. Devoid of melodrama and quick-fix solutions for the situation of two disparate personalities looking for companionship and some more, QQS is a welcome change from the funky formula fantasies which clog the multiplexes week after week. Cheers.
Let me qualify the elation, however, with the proviso: alas, the story is papyrus thin and does run out of steam as the journey of Yogi (
Irrfan Khan
) and Jaya (Parvathy Thiruvothu) progresses. Plus the backstory of the widowed working woman, Jaya, does give you an insight into her heart and mind. By contrast, Yogi, a poet, a jabberwocky gababout with deep pockets and a fashion disaster to boot, is just meant to be roguishly likeable. What makes him the way he is, go figure for yourself guys.
Anyway our Mr Chalk and Ms Cheddar connect online, meet up for coffee (better latte than never, is the message here) and in order to sparkle up the script, plan to travel through Rishikesh, Jaipur and Sikkim. Not entirely believable that, but what the heck, stranger things do transpire in the movies, don't they?