Cry, the state's so dry. Bootlegging is as inevitable as those billion bottles if not more, of hooch stuck with spurious labels. So here's an underworld fable, located in Gujarat of the 1970s-'80s, which is quite able, detailing how a crime lord and the lawforce can keep turning the tables.
Okay, so the Rahul Dholakia-directed Raees carries that mandatory disclaimer about any resemblance to real events and persons being entirely coincidental. Yet parallels to the true-life story of Abdul Latif who once monopolised the illegal liquor dhanda in Gujarat, and was charged with involvement in the 1993 bomb blasts, cannot be swept under the carpet of any multiplex. Perplexed?
Don't be. All's fair in love and cinema. True life stories can be a springboard to a splash of half-facts-half-fiction. Or as a vintage adage goes, aadhi haqeeqat, aadha fasana.
The key point for the viewer is does that gambit work? Does the adaptation snap and crackle? Auspiciously to a substantial degree, it does.Lamentably, towards the second-half the proceedings turn darker than an eclipse, the tempo flails like a lobster out of water and the entertainment quotient goes for a full toss, never mind the overall technical gloss.
Curiously, Dholakia who maintains a sharp eye for realism in terms of period and atmospheric detail (especially the use of authentic locations and set décor) lapses into strange sanitisation at points. Laughably, although booze is guzzled galore, no one ever lights up a cigarette and tobacco in any form. No bidi jalaiyle here.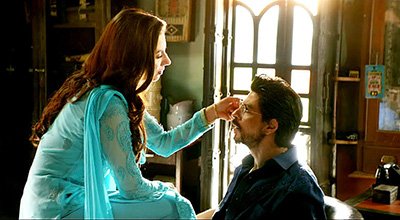 Did someone want the film to be a non-puffing zone way back in the smoking hot times? Moreover, the corrupt-as-corrupt-can-be chief minister flanked by venal politicians come off as cartoon caricatures. Can't he helped maybe. That's part of extolling the liquor badshah, almost mythicising him as a do-gooder, mentally conflicted Robin Brood of sorts. After all, Dholakia bhai has to do the politically right thing with a superstar actor as the pivot of the project.
Hang on. Still, there's sufficient biryani for thought here. One of the most poignant scenes shows the wannabe don Raees Alam (Shah Rukh Khan) deprived of celebrating the festive Eid day since a deal has gone awry. Also an interlude, depicting his tearful, emotional breakdown is masterfully conceived and acted in the still darkness of the night. Fantastic.
Take too, the anguish projected on realising that his mentor (Atul Kulkarni, smooth as a razor blade) since decades has merely exploited him ever since he was a knee-high, myopic sighted kid. Never ever expect any human connect, is forcefully asserted. In fact, several vignettes can be singled out for daring to stray away from the hackneyed Bollywood format.
The ascent of Raees to ill-fame is engagingly narrated, as the mother-adoring boy grows up to carve a fiefdom of his own, supported by his buddy (Mohammed Zeeshan Ayyub) at every U-turn of the plot.
Shortly before the intermission, intercuts between a Sunny Leone cabaret and a no-weapons barred showdown, has a retro-style wallop. Above all, the interface between Raees and the stalking, police officer Majmudar (Nawazuddin Siddiqui) add the much-required dollop of levity and tongue-in-chic humour to the narrative. Unarguably, without the prey and the hunter matching their wits about each other's disparate 'duniyas', over cups of kadak chai, the film would have lacked sugar and spice. Nice.

As for the romantic ingredient, Raees' chhed chhad and nikaah with the mohalla girl Mohsina (Mahirah Khan, disappointingly lifeless), these are more telegrammed than explicated. If the woman ever rises to the occasion, it's when Zarina takes the lead to set up a langar for communal riot victims, or campaign for her miyan's bid at becoming an elected politician. The character could have been given more space and strength perhaps, but then that would have meant extending the footage beyond 142 minutes.
What stays with you, at the end of the show, is the equal-to-life portrayal of the sometimes-stubborn-sometimes-frazzled don. Glad to report that Shah Rukh Khan is back in excellent form. Eschewing glamorous trappings and dispensing with mannerisms of any kind, here's a performance which affirms that he is capable of springing bravura surprises.
Quite clearly Nawazuddin Siddiqui is uber terrific, smooth as a shot of a premium single malt besides being adept at belting out punch-lines with a Buster Keaton-like poker face. Mohammed Zeeshan Ayyub's part is underwritten, reducing him to a flunkey. Yet the gifted actor never attempts to be intrusive, performing his reaction shots with restraint.
Throughout Dholakia's direction and K. U. Mohanan's cinematography concentrate on catching the characters in a world which has its autocratic shibboleths and regulations. The mileu of Gujarat through a moment of flying kites and a Scotch-soaked celebration by a smiling Hasmukh bhai, are particularly well rendered.
The music by Ram Sampath is passable. Like it or not, it's the remix of the Qurbani chartbuster Laila o Laila which stands out for its zing and zap.
The dialogue keeps harping on the uniqueness of a don with the business savvy of a bania and the daring of a miyan bhai. Okay okay, we get it guys. Why go yawn with it ad nauseam?
With all its highs and lows, Raees does grab you by the jugular. It's uneven for sure but if you're willing to go with that, here's your ticket to a Bollywood roller-coaster ride.

Image Source: youtube/RedChillieEntertainment