She's a cuteheart. When a pigeon drops by on her apartment's ledge in a Virar housing complex, there she is going gutargu in rhythm. She can offer a transgender a bus-seat next to her, chatter away with a woman taxi driver, mimic Sridevi and Hema Malini,and strive to win as many as aunty-type competitions – a lemon-spoon race and musical chairs included. Whee!
That's a valentine to Tumhari Sulu, written and directed by first-timer Suresh Triveni, a clean-cut urban comedy with a cause, designed to evoke laughter, tears and nods of rueful recognition. Sigh, housewives of the Sulochana Dubey (Vidya Balan) kind, could be well languishing away in your apartment colony. And you can be sure, like this pigeon-pal, a majority of them harbour their little big impossible dreams.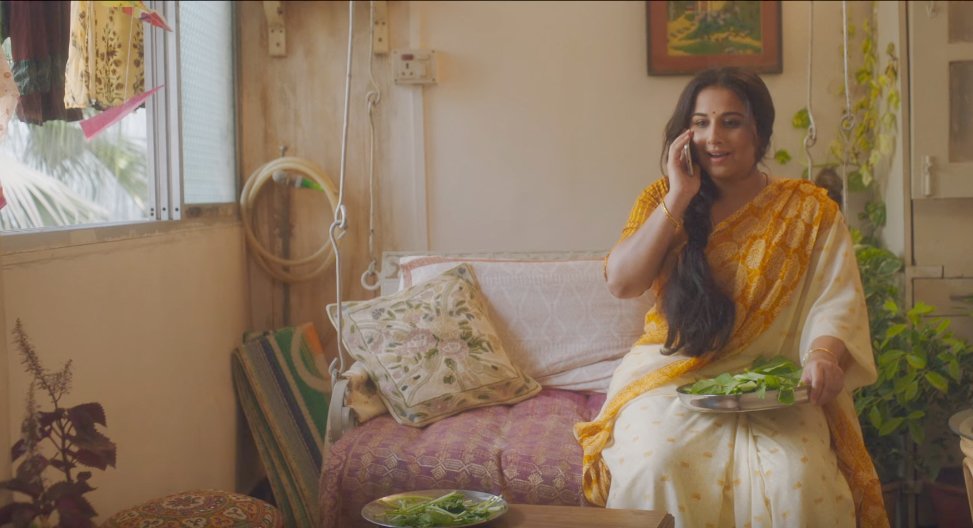 Vidya Balan In Tumhari Sulu
The outcome is a multi-shaded portrait of the wife of a husband harangued at his job, and the mother of an 11-year-old son, who's going through growing-up pangs at his convent school. The transition from a jolly-ho kitchen-bound woman to a night-time radio jockey who must greet male 'phone calls with a husky, sexy, "Hellooo", is narrated with sufficient economy and panache.
Even more impressively, the rush of self-sufficiency which Sulu experiences on landing a job, for the first time in her life, is as plausible as her faux pas. Example: opening up her tiffin box for a masala-packed dinner immediately on reaching the office. Downmarket she may be in other's eyes. To us she's adorable, as she is to her Mr (Manav Kaul), who doesn't get all huffy when he's asked by the Mrs, why they haven't locked lips for days. Instead, he breaks into song-and-dance which is as spoofy as it's goofy.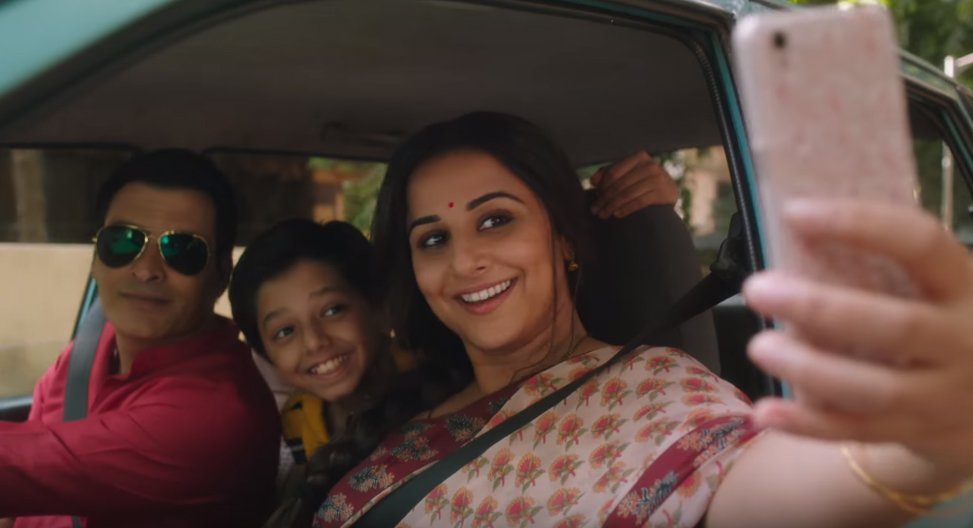 Manav Kaul And Vidya Balan In Tumhari Sulu


Now, a plot about a cribb'd and confin'd housemaker who sets out to augment the family income may be as old and classic as Satyajit Ray's masterwork Mahanangar (1963), isn't it? Fortuitously, if there are plot similarities – as there were in a section of Lipstick Under My Burkha – the derivative nature of the screenplay, isn't offensive. Triveni from his background as an ad filmmaker, transplants the feisty woman once portrayed by Madhabi Mukherjee, from Kolkata to amchi Mumbai. And ipso facto to another millennium where soceital attitudes towards working women may have altered considerably, but not quite.

Hackles are raised of Sulu's twin sisters (hilarious duo), her irritable dad, and gradually her husband whose male ego seems to be bruised. Because her deejay routine is designed to titillate lonely men (hey Triveni bhai, how come no women called hamari radiowalli Agony Aunt?), her near and dear ones believer her switchover to a Sunny Leone of the airwaves, is oh-so-ashleel. Gandi baatein, and all that.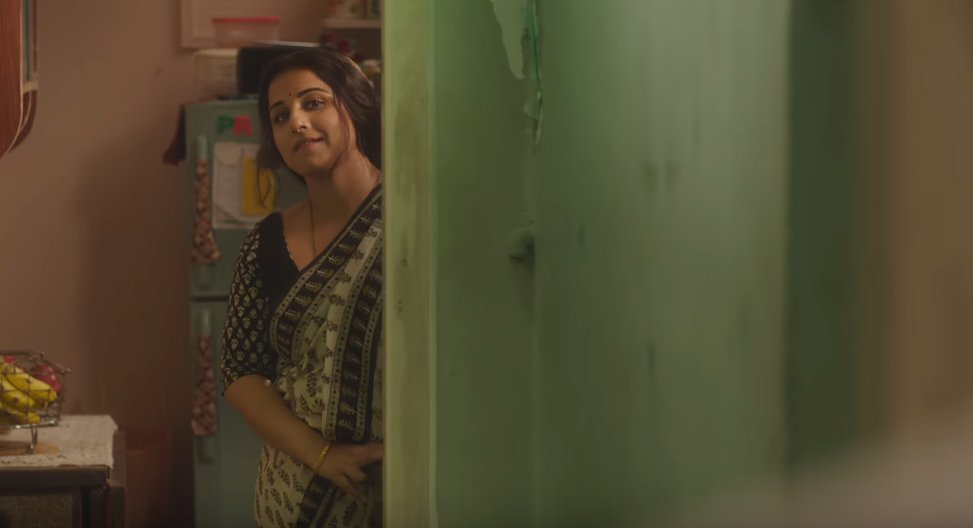 Vidya Balan In Tumhari Sulu

On the other hand, the radio channel's boss lady (Neha Dhupia) proves to be the deejay Sulu's cheerleader and her workplace colleagues are supportive. As for the khadi kurta-clad radio show producer (Vijay Maurya, convincing), he does get around to our heroine's decidedly unaffected ways and spontaneity.

Erm, towards the film's latter half, a crisis point is reached, which you could predict, since its seed was planted at the outset to grow into a beanstalk. The last half-and-hour does tend to go over-the-top besides being contrived to the extent of making you go duh-what's-happening? To prevent a spoiler alert, just let me say it involves running around helter-skelter on the streets and a railway station's platform. Redeemingly, the wrap-up is as believable as it gets. Thank ye.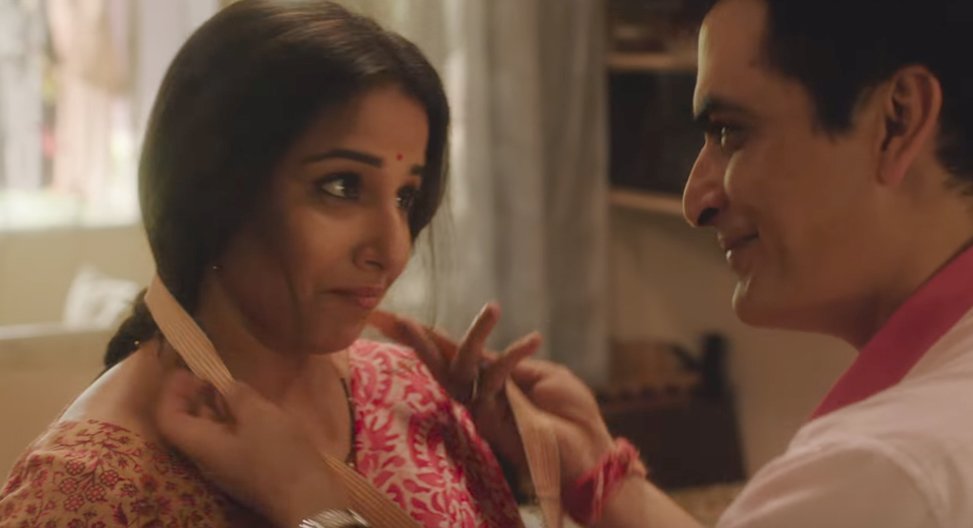 Vidya Balan & Manav Kaul In Tumhari Sulu

Technically uneven – the transition shots of the housing colony had me squirming – TS could have boasted of a sleeker look and lighting. At points, the editor seems to have dozed off accounting – especially while lingering on a horrendously acted and written despot at the husband's workplace -- for the somewhat inconsistent tempo.

Of the music score, the track Ban ja Rani, is something surely to zing about.

Largely, the dialogue works in the Mumbaiya argot adeptly. Still you do wonder whether a Hindi speaking family, the Dubeys, would lapse into "mere koo" and Sulu's constant refrain, "Main kar sakti hai." Honestly, wouldn't "mujhko" and "Main kar sakti hoon" have worked as effectively? Never mind, such quibbling doesn't subtract from the overall refreshing candour of Suluspeak.

Of the ensemble cast, Manav Kaul is excellently nuanced throughout. Neha Dhupia is terrific, too, never striking a false note.

Without a doubt, Vidya Balan is outstanding. Using her voice as a lethal weapon, flicking her tongue to go "oops" and employing those whirpool eyes to dart a thousand words in a single look, here's one of the year's most endearing performances worth a big warm bear hug. And dare I say, award trophies? Way to rock, Ms Balan.

Last few words: Enjoy the magic.




Image Source: youtube/t-series