Fabulously HOT or NOT: Nia Sharma, Reem Shaikh, Sunny Leone And Aamna Sharif
Hello guys, the weekend is upon us and it's time to slip into outfits that flatter! Take inspiration from glamour town divas Nia Sharma, Reem Shaikh, Aamna Sharif and Sunny Leone to amp up your fash game.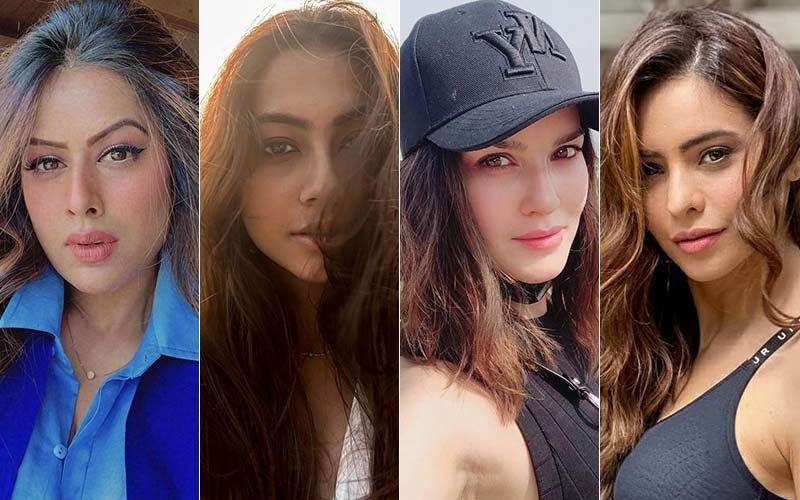 Glamour town's most fashionable ladies are embracing the weekend with a dash of sparkle. Sunny Leone is kitsch town princess in her eclectic yellow and blue dress, Nia Sharma is amping up the sexy in a dangerous deep-cut sports bra. Reem Shaikh and Aamna Sharif are keeping things fun and casual in their almost-weekend attire. Let's get down to discussing who wore what and who shouldn't have worn what they did in today's FABULOUSLY Hot or Not.
Up first Reem Shaikh, the lady who has been lazing around on the beaches in Goa wears an easy breezy number – bootcut denims and a top with front tie-up detail. She looks ready for another lazy brunch at one of the vegan cafes in the beach haven. FABULOUSLY effortless and HOT.
Sunny Leone, the lady who is literally the princess of kitsch town in this fitted skirt and crop top. Do we dig this accentric look by the ravishing Ms Leone? Maybe (FABULOUSLY) not.
Aamna Sharif is chilling in the (almost) winter sun in Mumbai. Wearing a breezy yellow top with eclectic jewellery, the lady looks like a beam of pristine golden sunshine herself. Simple and stunning in this FABULOUSLY HOT look.
Mouni Roy on the other hand knows what she's after. She's going for the powerful seductress that commands attention and gets it too. We much like Mouni's spectacular confidence that radiates through this shoot. FABULOUSLY HOT.
Nia Sharma in another one of her don't-care-a-damn looks! She dons an ultra plunging sports bra putting the focus on her decolletage. She teams it with a crop jacket and tracks. Nothing great to write home about! This one's for the FABULOUSLY Not bracket.
Image source: Instagram/reem_sameer8/niasharma90/sunnyleone/aamnasharifofficial