Dwayne Johnson Pens A Hilarious Birthday Wish For Emily Blunt, Calls Her 102-Year-Old
Hollywood actor Dwayne Johnson wishing his co-star Emily Blunt on her birthday, poked fun at her in his Instagram post. The actor penned a hilarious birthday post for her and mentioned how he is compelled to talk only good things about her. He even called her 102 years old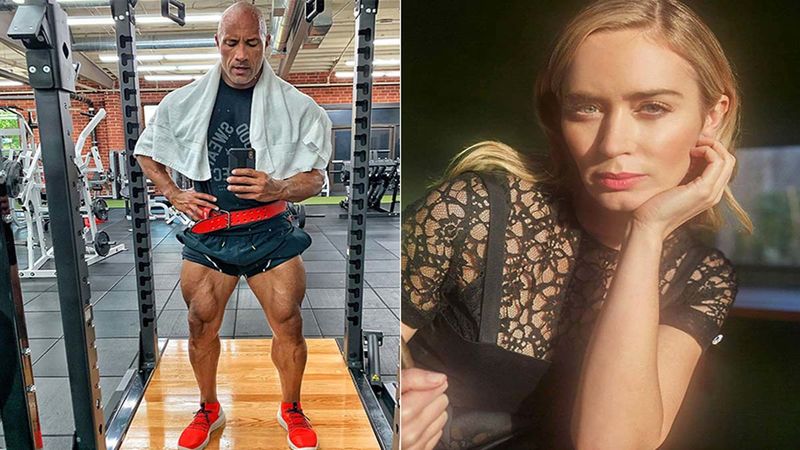 Dwayne Johnson's latest Instagram post will leave you laughing! Known for his funny one-liners and crazy antics to entertain his audience, he continues to do the same as he pens a funny birthday wish for one of his female co-stars. The wrestler and actor while wishing his co-star Emily Blunt on her birthday, poked fun at her, also leaving the readers in a split. Now without beating around the bush anymore let's get to the wish or we can say the hilarious post penned by him that got everyone laughing.
In the picture, we can see Dwayne Johnson posing with Emily Blunt having a big laugh. This picture seems from their movie set. He mentioned in his post that it's a compulsion to say nice things about her. But later says she is like family to him. He also praises her for being immensely talented, addressing her as his sister in his post. In the end, he teased Emily by calling her 102-year-old and still looking amazingly beautiful. So funny Dwayne!
His hilarious Instagram post read, "Happy Birthday to my dear friend and JUNGLE CRUISE co-star - and one of the most talented actors of our generation. Emily Blunt. And yes, I'm contractually obligated to say nice things about her. yawn. Truth is, she's family. Happy birthday, sis.You look amazing for 102."
On the professional front, the actor has started
filming for his upcoming movie Red Notice
. He shared a clapboard picture announcing of the film going on floors. He will share screen space with Ryan Reynolds and Gal Gadot.
Image Source: Instagram/emily.bluntt/therock