F9: The Fast Saga Review- This Vin Diesel And John Cena Starrer Is So Messy It Will Leave You Cauterized
Chaotic would be an understatement about what transpires for 2 ½ hours in F9. Vin Diesel can't act to save his or his colleagues' life. But that won't stop him from returning in F10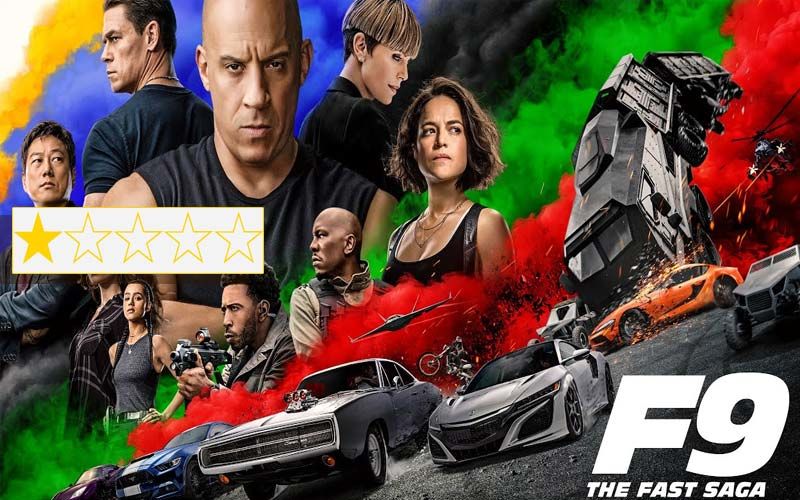 For the fans of the frenetic franchise, it doesn't matter what the plot is. So here's dope on the plot of Fast and Furious 9: there is no plot. At least none that I could make head or tail of. Believe me, I tried hard. But all I could see were cars flying in the air with breaks for the characters to huddle together in a room that seems filled with a 5-year old's i-tech toys. Every time the characters stopped racing and started talking I raised the volume and listened hard. It took me a while to figure out that these people in high-speed gear were actually speaking to one another and not to some people out of camera range. The characters in FF never look at one another when they talk. There is a quiet sequence (the sound of screeching tyres on highways and crashing into rocks could make you deaf forever, there is probably a statutory warning somewhere to this effect, if not then be warned by me) where Vin Diesel's sister (Michelle Rodriguez) is having dinner at a restaurant with his sister (Jordana Brewster).
I waited for some catastrophe—maybe the beef steak would blow up on the table, or the flatulent waiter would spread toxic fumes –to punctuate the conversation. F9 is like a prolonged football match where the two sides are unable to identify one another and the spectators are just as confused. The referee has gone out for some fresh air and never come back.
Chaotic would be an understatement about what transpires for 2 ½ hours in F9. I did gather that Vin Diesel and John Cena are blood brothers after each other's blood for their father's death. The narrative gives them no time to settle down to a bro-to-bro chat. It's all about racing cars rather than gracing emotions. Cena and Diesel do look like brothers, though. Not that I care as long as they get to be in dead-end car chases against one another. They are both equally expressionless actors with little appetite for nuances. Their complete lack of emotional empathy had me so exhausted that I began seeing things. I thought I saw Gal Godot making a brief appearance. Was she really passing by? The stunning Charlize Theron plays the main antagonist. You could have fooled me. She looks too hot to be a villain. At one point in the hurling narrative, she tells a character with commandeering splendour, "If this was a movie this would be an ideal moment for the villain to enter."
I don't know if Ms Theron saw the irony of saying this ironic line in a movie that's so 'movie' that every character—and there are dozens of them peeping out of every cranny—is constantly posturing with guns in speeding guns, the ladies trying to look more macho than the men.
My only takeaway from this traumatic experience: Vin Diesel can't act to save his or his colleagues' life. But that won't stop him from returning in F10. As Tyrese Gibson wonders aloud, "So many times we have been in the jaws of death and not a scratch. Could it be that we're invincible?" Yes, invincible, inscrutable and insufferable. Directed by Justin Lin, F9 gets 1 star.

Image Source: Instagram/vindiesel , youtube/thefastsaga