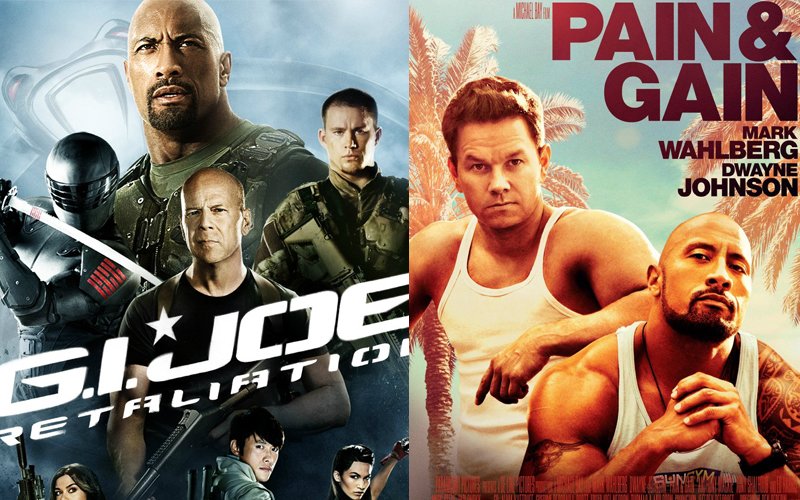 The man we knew as The Rock from the WWE is today one of the most bankable actors in Hollywood. On his birthday, we take a look at the top five films that rocked Hollywood.

1. Fast and Furious franchise (2011 – current)


Image Source: freefilm
The Rock debuted as Luke Hobbs, a Diplomatic Security Service agent in 2011 and has been a franchise regular since.
We don't exactly know what the role of a Diplomatic Security Service agent is, but we're happy that it allows him to use the big guns and beat up the baddies – The Rock style.

2. Pain and Gain (2013)


Image Source: freefilm
This was the film where The Rock decided to shock his fans. The film where The Rock shut up his critics who said that he was just a man-with-muscle who got lucky.

Once again based on true life incidents, The Rock sunk his teeth into the character of a dim-witted, deeply religious criminal Paul Doyle and came up with one the best performances of the year.

3. G.I Joe: Retaliation (2013)


Image Source: ganool
The Rock has earlier played characters from other media in the Mummy franchise and in Doom but he will always be remembered as Roadblock from this film.

This was one machismo laden film with the likes of Bruce Willis and Channing Tatum and The Rock shone through it all.

4. Walking Tall (2004)


Image Source: rottentomatoes
The Rock totally owned the role of the army vet who went on to become a Sheriff, Chris Vaughn. Based on the real-life story of Sheriff Buford Pusser, The Rock brought a type of grit and intensity that only someone who's spent years in the ring could. This is our personal favourite in this list.

5. The Rundown (2003)


Image Source: zimuzu
The Rundown is a full blown action-fest that starred The Rock, Seann William Scott, Rosario Dawson and the inimitable Christopher Walken. Featuring kick-can action and The Rock this is one of his first 'serious' roles, The Rundown was a total success. Another thing notable in The Rundown was the bro-chemistry between Seann and Dwayne.

The Rock is one of the few WWE superstars who have gained not just mainstream popularity but legitimate success.
Here's wishing The Rock a Very, Very Happy Birthday.

Thumbnail Image Source: facebook/painandgainfilm & fast5