FRIENDS Reunion: Jennifer Aniston, Courteney Cox, Lisa Kudrow, Matthew Perry, David Schwimmer And Matt LeBlanc Back On The Iconic Set After 17 Years - LATEST PICS and VIDEO Inside
Ahead of the Friends: The Reunion episode, Jennifer Aniston, Courteney Cox, Lisa Kudrow, Matt LeBlanc, Mattew Perry and David Schwimmer reminisced fond memories of shooting for the show and their unbreakable bond.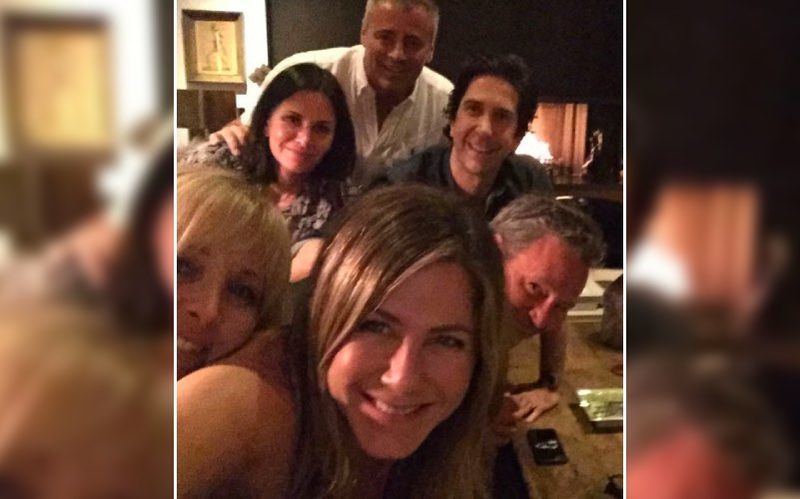 The special 'Friends reunion' episode is just a few days away and many of us can't keep calm! Adding to the excitement, in a recent interview with People magazine, Jennifer Aniston, Lisa Kudrow, Courteney Cox, David Schwimmer, Matt LeBlanc, Matthew Perry came together and opened up about their beloved show and the unbreakable bond that they share. The photos and video that are People magazine exclusive will leave you beyond excited for the reunion special bind.
A People magazine exclusive, when the six stars first met up together on the soundstage, their initial mutual thought was 'Oh God, how are we going to get through this alive, without just crying our faces off?' said Jennifer Aniston. One of the pictures gives fans a glimpse into Monica's apartment. The stars were taken aback by the site of meticulously recreated sets, Joey and Chandler's bachelor pad, Monica and Rachel's apartment and more. Talking about the same, Courteney told People, 'I was flooded with ten years of irreplaceable memories.'
In the video, Jennifer, Courteney, Lisa, Matthew, Matt, and David open up about the bond they share. 'We never went off our separate ways, we always wanted to hang and that made ten years incredible.' Reminiscing about the show, Perry said that Friends changed his life in every way. Furthermore, Lisa can be heard saying, 'We're connected no matter what,' to which Jennifer adds, ''Til death do us apart.'
A few days ago, a teaser of the upcoming reunion episode was released and it was enough to leave everyone excited. For the uninitiated, several stars will be making guest appearances including BTS, Lady Gaga, Cara Delevigne, Reese Witherspoon, Malala Yousafzai, James Corden, David Beckham and Justin Bieber. The show will be premiering on May 27 on HBO Max.
Image Source:Instagram/JenniferAniston