Jennifer Aniston Looks Too Cute In A FRIENDS Cap And Tee, Says 'We Were So Not On A Break'; Is David Schwimmer Listening?
Jennifer Aniston took to Instagram on Monday to share a cutesy picture of herself. She has put on a FRIENDS cap and a t-shirt inspired by Monica Geller aka Courteney Cox's character in the sitcom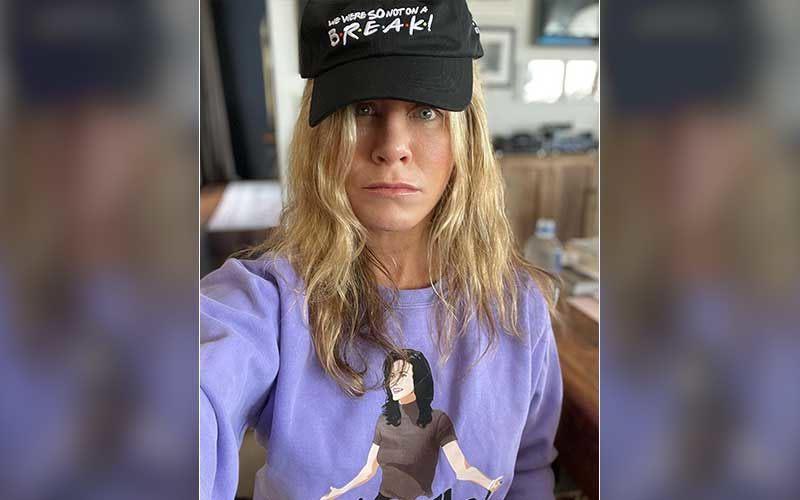 Over the years, the sitcom 'FRIENDS' has managed to garner a massive fan base worldwide. Fans love the cast of six - Jennifer Aniston, Courteney Cox, Lisa Kudrow, Matthew Perry, David Schwimmer, and Matt LeBlanc. The 'Friends: The Reunion' special episode released this year, and fans enjoyed watching the cast reuniting and revisiting old memories. But one query that still bugs every FRIENDS fan is whether Ross Geller (Schwimmer's character) and Rachel Greene (Aniston's character) were really on a break.
On Monday, Jennifer Aniston made it very clear. They were "so not on a break". She shared a cutesy picture of her promoting the 'FRIENDS' merchandise.
Aniston put on a 'FRIENDS' cap and a t-shirt with "I KNOW" written on it - which happened to be Monica's favourite thing to say on the show. Courteney's iconic line from the sitcom was printed below her character art. Jennifer has also donned a cute black cap with "We were So not on a break" printed on it.
Furthermore, in a video, the actress gave a glimpse of other items.
We hear thee, Rach!
In the caption, Aniston also mentioned that half of her proceeds from the limited drop will benefit an organisation which is working to provide relief, mental health care, and medical aid to communities and individuals.
The 'FRIENDS: The Reunion' special episode released on May 27, 2021. It was directed by Ben Winston. In this episode, when David Schwimmer was asked if Ross and Rachel were on a break, he said they really were. In fact, Matthew Perry, Courteney, Matt Le Blanc and Lisa Kudrow agreed with him. So, is he listening now?
Image source: Instagram/ ; SpotboyE Archives