Kim Kardashian Reveals She Goes To Bed At The Same Time As Her Four Kids
Owing to her busy lifestyle, Kim Kardashian manages her work and personal life at ease. While such expertise comes at a cost, recently Kim revealed how she does not party and goes to bed at the same time as her four kids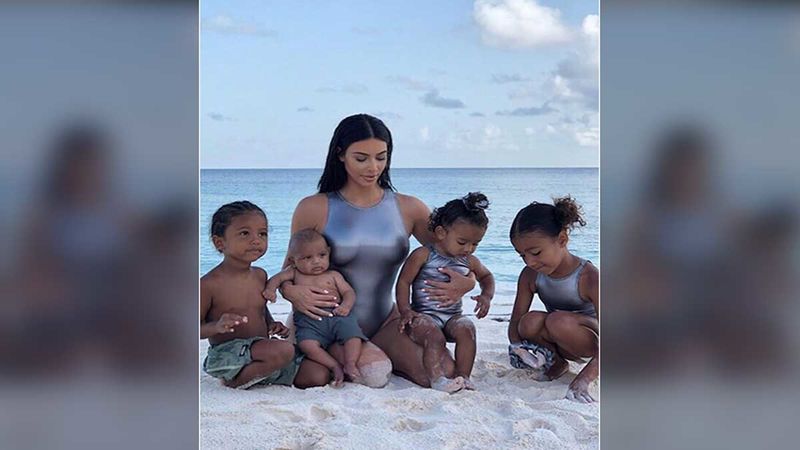 Kim Kardashian is very busy due to work commitments, but the beauty mogul makes sure she keeps an update on the day-to-day happenings in the life of her kids. As the mogul is a mom to four kids, North, Saint, Chicago and Psalm, Kim tries her best to spend most of her time with them. While Kim is too busy with her numerous business adventures, the beauty mogul is not too often snapped partying till late night now. As such expertise comes at a cost; recently Kim revealed how she does not party and goes to bed at the same time as her four kids.
The beauty mogul lives on a strict schedule owning to her law studies and managing her four little munchkins. As Kim grew up in a big family with seven siblings over the years, the popular couple KimYe also felt it was the right choice to have a large family of their own. While Kim manages her busy lifestyle between work and kids, the beauty mogul revealed how she lives on a strict schedule. According to reports in a section of the media, Kim shared that she goes to bed when her kids go to bed. The beauty mogul also mentioned that she does not drink and does not stay out late at night, as she believes that not staying out late at night really does help. Also Read:
Kim Kardashian Was Paid 2 Million Dollars For Her Recent Advertisement- Reports
Talking about how she manages her day, Kim Kardashian revealed that she micromanages her day. The mogul shared how being organized is key as she does not like to veer off that because it's all planned out with her four kids. Kim also disclosed that she has a specific time to wake up and have her schedule set in stone due to that.
As the Keeping Up With The Kardashian star is following the footsteps of her father and aiming to be an aspiring lawyer, Kim has been working and studying nights for her law degree. While many fans believe that Kim can completely pay her way to become a lawyer, Kardashian shared that there is a misconception that she doesn't actually have to study and that she has bought her way into getting a law degree. Denying all the rumours, Kim revealed that it is not true and mentioned that she is being underestimated and over-delivering is her vibe.
Image source: Instagram/ Kim Kardashian