KUWTK: Khloe Kardashian Shares Why She's Mad At Kourtney Kardashian For Filming Less Than Kylie And Kendall
While the news of Kourtney Kardashian leaving the show has been surfacing all over, Khloe Kardashian shares why she is upset at her eldest sister for filming less than half-sisters Kylie Jenner and Kendall Jenner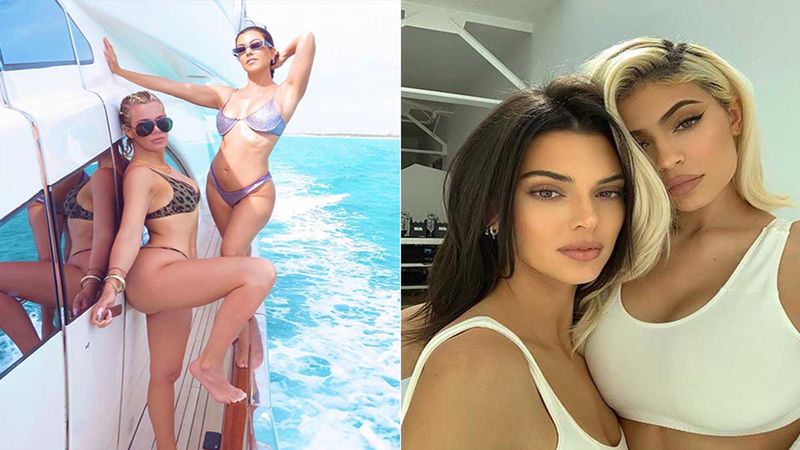 Currently, a lot of buzzes has been created around Kim Kardashian's popular show
Keeping Up With The Kardashians
with rumours of Kourtney Kardashian leaving the show and lots more. After a heated argument between Kourtney and youngest sister Khloe Kardashian on the December 8 episode of KUWTK, Khloe clearly expressed how upset she is at her eldest sister for filming less. Now, as Khloe Kardashian was questioned by fans on why she got so upset with Kourtney filming less, the youngest Kardashian shares the reason on social media.
Recently, a fan took to Twitter to question Khloe on why she is upset at her eldest sister for filming less than half-sisters Kylie Jenner and Kendall Jenner. The fan wrote, "This ain't shade AT ALL but do Kendall and Kylie have different contracts now for #KUWTK? cos Kendall rarely films and Kylie isn't featured a whole lot? #KUWTK." Replying to the fan, Khloe wrote, "Kendall and Kylie have different contracts. Kourt, Kim and I have an equal contract," and justified her anger towards her eldest 40-year-old sister. ALso Read:
KUWTK Promo: Kim Kardashian Seems Uncomfortable Reading Out Analysis That Fans Want More Of Khloe And Kanye
While Kylie Jenner and Kendall Jenner are not mostly featured on the KUWTK, Khloe explained the reason why is most unhappy with Kourtney filming less. Khloe revealed that as Kendall Jenner and Kylie Jenner have completely different contracts then Kourtney, Kim, and Khloe, and that being the reason they are less featured on the show and they film less. As for Kourtney, fans want to see more of her just like Kim and Khloe, but the eldest member of the Kardashian clan is mostly known to share very less of her.
As Khloe is upset with her sister, the three sisters are not only the main stars of Keeping Up With The Kardashians, but they also serve as executive producers as well.
The real reason behind Kim Kardashian and Khloe being upset with Kourtney's mere disappearance at most times on the show is that Kim and Khloe have to film more to cover up for Kourtney. The gang of three have been shooting for the show since it premiered in 2007, and running on season 17 lately.
Image source: Instagram/ Khloe Kardashian, Kendall Jenner