Kylie Jenner Turns Early Christmas Bunny In Her Frosty White Snowsuit
As Kylie Jenner is in the Christmas vibe, today, the make-up mogul took to her social media to share pictures of her enjoying the festive season. In the pictures, Kylie is snapped dressed as a Christmas bunny and looks adorable in her frosty white snowsuit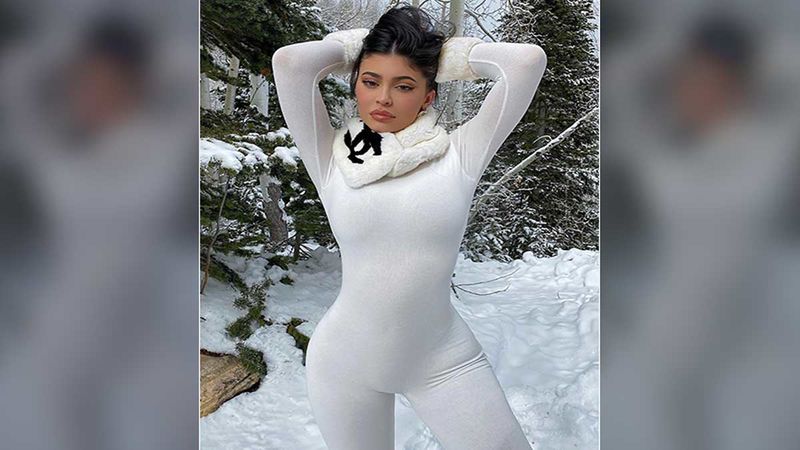 The Holiday month of December has begun, and
Kylie Jenner
is trying to make the most of it. On December 1, Kylie shared pictures of her
sipping some hot chocolate with marshmallows
and managed to spread the Christmas cheer with fans. While Kylie is gearing up for the festive season, the make-up mogul took to her social media to share sexy pictures of herself as she turns into an adorable Christmas Bunny. In the pictures shared by the youngest member of Kar-Jenner clan, Kylie also posed along with bestie Yris Palmer, and the girls are completely giving out the Holiday feels.
Haven't we all heard of Easter bunnies, well, but this time Kylie Jenner has gone all her way out and has turned into a charming 'Christmas bunny' for us. The make-up mogul recently took to her Instagram to share endearing pictures of her striking a pose as a cute Christmas bunny in her frosty snowsuit with her bestie Yris Palmer. In the pictures shared by Kylie, she has completely managed to bring cheer to us by flaunting her sultry body in the white snowsuit, Chanel scarf, and hand mufflers. Kylie shared her first picture captioning it, "took my bitch to the snow," with bestie Yris Palmer, while Yris is dressed in a black snowsuit with a Chanel scarf and hand mufflers, while Jenner flaunted the same outfit in white. Also Read:
Kylie Jenner Slips Into A Knitted Beige Dress For Thanksgiving; Displays Her Hour-Glass Figure In Full Glory
While the girls stole the show with their first picture, Kylie has many more coming featuring just herself. In this picture, the snow-covered background clearly fills in and adds an extra effect to Kylie's innocence in her bunny outfit.
Kylie Jenner then shared another picture as she played along with her tresses captioning it, "Elsa Who?" Well, Kylie is clearly enjoying her snowsuit and even Disney's Elsa must 'Let It Go," and let Kylie have it all with her jaw-dropping picture.
Meanwhile, as the make-up mogul enjoys the snow and chilly weather, the founder of Kylie cosmetics also shared pictures enjoying some wine.
Needless to say, Kylie is embracing the Christmas season to the fullest and her family has also kick-started the Holiday season preps.
Image source: Instagram/ Kylie Jenner