Travis Scott Highlights Breakup With Ex-GF Kylie Jenner In His New Song; Reveals 'She Wants To Hibernate'
Did Travis Scott just spill the beans on his breakup with Kylie Jenner in his new song Gatti? The rapper revealed that Jenner wanted to hibernate, reportedly due to their different lifestyles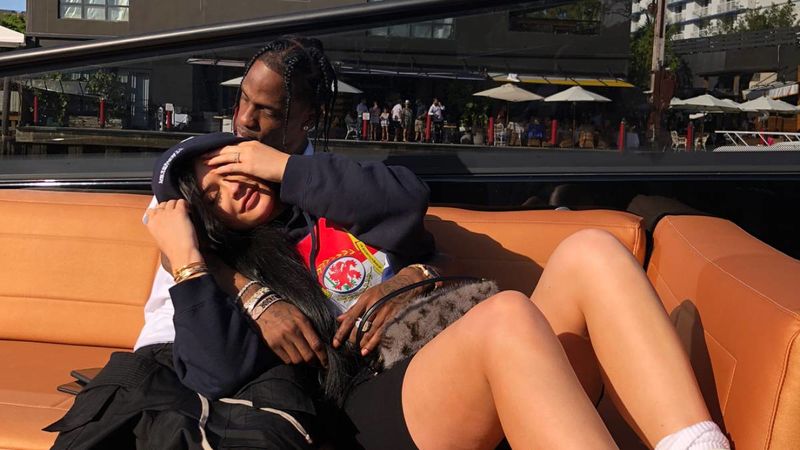 Kylie Jenner and Travis Scott's unexpected breakup has been the talk of the town for quite some time now. Well, there have been several speculations on as to why did they separate, despite having a happy time. However, we guess, Travis just spilt the beans on his shattering relationship with Kylie Jenner, though in the most cryptic way possible. Well, we are talking about the 27-year-old rapper's latest project, titled JACKBOYS, from his label Cactus Jack Records. One of the songs from the album – Gatti – caught our attention because it has Travis saying a line that indirectly mentions of Kylie.
The rap line reads, "Duck away, she wanna lay up and hibernate (Yeah) / I took a chance, it's a lot to take." Now, as per Hollywood Life, Travis hinted at his and Kylie's different lifestyles. A source close to the rapper told the portal, "Travis was getting antsy not going out more now that Stormi (Travis and Kylie's 22-mos.-old daughter) is older and he wanted to live the life he has afforded and be out and about more". They added, "Though Kylie is young and wants to go out herself, she is also a wonderful mother and wants to live her life as a family." (ALSO READ -
Christmas 2019: Kylie Jenner's Daughter Stormi 'Has Best Day Ever' With Poppy; Later Twins With Her Mommy
)
Check out the video below:
Irrespective of all the differences between them, Kylie expressed her elation by sharing the swipe-up link to Travis' album and, in her caption, an excited Kylie wrote, "STORMIS DAD," in all caps.
In fact, the two also bumped into each other at the Kardashian Christmas party, where they were snapped along with Stormi.
image source: instagram/travisscott