Anupriya Goenka: "Panchali Makers Promised My Intimate Scenes Will Be Shot In Dim Light But Went Back On It"
After ULLU App owners and Panchali web series makers accused Anupriya Goenka of having an unprofessional attitude and not promoting the series, the Padmaavat actress has shot back and said it is she who has been manipulated and wronged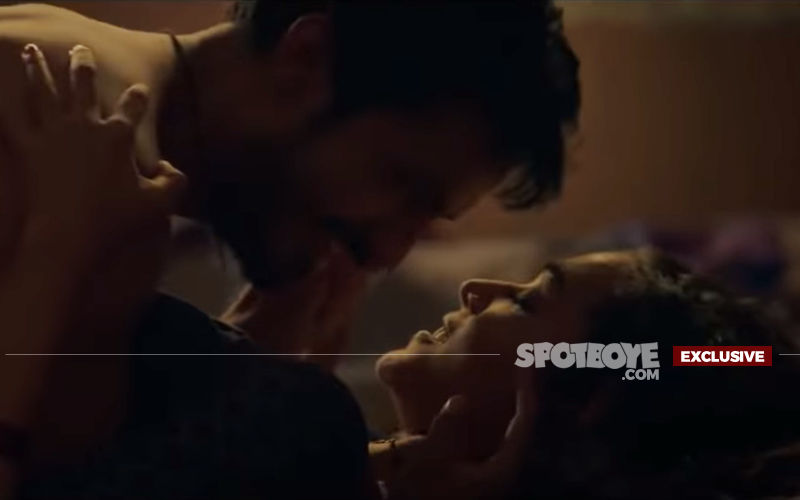 A few days back, makers of Panchali web series, which is streaming on ULLU App, accused Anupriya Goenka, the lead actress of the series, for being an unprofessional as she refused to promote the web series. According to the makers, Dreamzz Images and the Ullu App, Anupriya has refused to allocate a predetermined time for promotional activities for the media, thereby failing the contract clause for Panchali, produced by Ullu.

Falguni Shah of Dreamzz Images, while talking to Telly Chakkar said, "I being, a producer, have done more than everything which was in my control. But Anupriya Goenka, is not fulfilling her duties as an artiste or as a professional. As this conversation was happening between us and her manager, I even mailed the detailed conversation to Anupriya personally but till date I did not get any revert from her."
While Producer-Filmmaker-Entrepreneur Vibhu Agarwal and the man behind the Ullu app added, "We waited long for this and then finally released the show. The channel won't be releasing the part payment for this project to the production house due to the actor's unprofessional behaviour."
And now, Anupriya has put forward her side of the story. In a long statement, the actress has in turn accused the makers of shortchanging her and manipulating her during the signing of the contract.

Anupriya said, "The whole thing has been a case of grave miscommunication and misrepresentation of facts to me, and have broken it down point wise to clear my stand:

1) I was approached by Dream Images, the production house for a short film called Bhoomi later titled Panchali, I agreed to do it, as it was clearly communicated to me, that it was to be a 45-minute short film meant for film festivals and to be released on any of the usual OTT platforms, as a short film. Was told that the OTT platform was not finalized at the time of signing.
2) On the understanding it was a short film my monies and fees were discussed and fixed accordingly, hence a gross manipulation on their part as later I found out that not only was the said OTT platform was on board right from the beginning but it had commissioned the project and also it was always always meant to be a 128 minute /5 part web series. I dint know of the said platform's existence even and this association was completely hidden from me.

3)The first three intimate scenes were to be shot in silhouette and dim light and no scene of any intimate nature was to extend beyond 30 seconds each. During the shoot of the first 3 scenes, as if was fully lit, I was once again reassured that in post the scenes would be dimmed and on edit the scenes wouldn't extend beyond what discussed. Again to realise that once again I was manipulated and as each scene was released for a duration of 3 to 4 minutes in bright light.

4) On the quote on that we didn't have a meeting with CINTAA, my manger had represented me at the meeting, as I was on shoot and the minutes of the meeting are on record and has been signed by both parties, while I personally was in touch with Mr. Sushant Singh ( CINTAA Head) via text and phone.
Sushant sir can be contacted to verify the same.
5) Due to such misrepresentations, their lies and manipulations happening from the start of the project, I felt let down and admit did not want to promote the project at all, but after having a talk with Mr. Sushant Singh (CINTAA HEAD), I agreed to go promote the series. My PR team, in fact even followed up with their PR team for PR strategy, dates, constantly. Asked for details of interviews they planned with journalists but nothing was ever shared with us. They only wanted me to have a picture with the CEO of Ullu to put on medianet in TIMES. In spite of all the bad blood I was willing to promote the series, but I can't be made to promote a channel in particular or act as their brand ambassador. Also they wanted my bytes regarding the channel and for me to post it on my social media but CINTAA agreed that sharing a project on one's personal handles is an actor's prerogative and not a contractual obligation.

6) During the Cintaa meeting it was decided that I would promote the series based on the 3 initial intimate scenes being dimmed out by the production as agreed before shoot. They confirmed it but then released the series as is and hence I am not under any obligation to promote it any more anyways.
To end it, I don't understand, how can I be questioned here, even though I'm the one who has been wronged as an actor, I have been lied to, facts have been misrepresented to me and have been highly manipulated. So, on behalf of all the actors out there, I have all the right to take this up and stand my ground. You cannot make an actor do a web series while projecting it to be a short film and paying them accordingly. You cannot set out to do a 45 mins short film, after discussing a certain lay out and theme and projection of a script with an actor and change it into a 128 mins web series after shoot.

Most of all, you cannot deliberately hide the platform details from an Actor when it's already been decided and the project has been sanctioned from the platform. All this accounts for acute misconduct and un-professionalism. I am here to do good work, collaborate with talented teams, do my riyaz and grow as an artist not to pick petty fights. But at the same time will not accept injustice. I've gone through a lot of harassment and have suffered a lot, because of my mistake of trusting the makers and wanting to do a short film for creative satisfaction."


Image Source:- youtube/fimlytrailerbro