Ex-Stream Benefits: Shershaah, Netrikann, Navarasa And More- Revaluating The Hits & Misses Of August On OTT
Here is the list of OTT content churned out this month- some of them grabbed great reviews while others didn't impress the audience much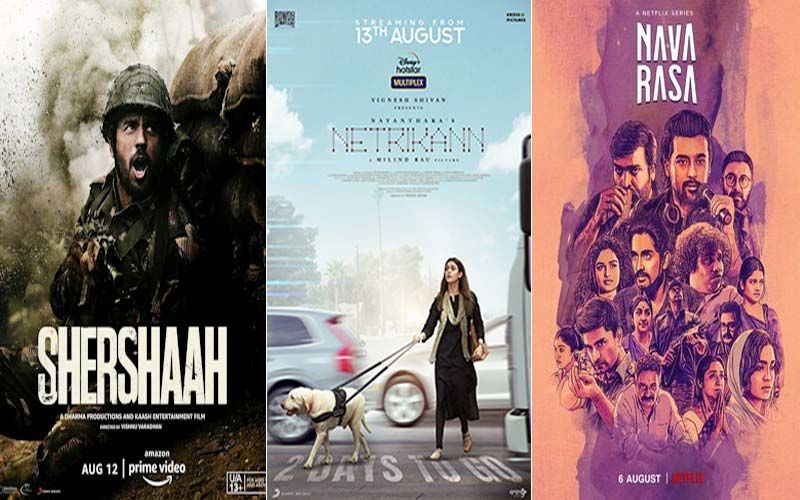 1. Shershaah(Amazon Prime Video): The OTT triumph not only of August but probably of the whole year, Shershaah surpassed all expectations to become one of the most popular Indian feature films to go directly to digital. The film's popularity, which has taken even Amazon by surprise, is attributable to its straightforward approach to the heroism of Indian soldier Vikram Batra. There is no attempt to pull any punches. The gimmick-free storytelling plus Sidharth Malhotra's sincere performance made this a Independence Day weekend special , and special for the weekend every year to come. Plus, Disney-Hotstar's Bhuj which came a day later did a real disservice to the Indian army. OTT audiences compared the two films and embraced Shershaah even tighter.
2. Netrikann(Disney-Hotstar): Netrikann would not have been possible without Nayanthara. Playing the blind Durga, she is every bit a woman in control of her destiny.She is sharp and extra-alert because of the disability that strikes her life right at the start of the film. No pushover, this victim of fate.Durga is not going to allow her blindness to darken her destiny.Striking a lovely figure with her stick and her faithful dog , Nayanthara is shot with fanboy lovingness by director Milind Rau and his excellent cinematographer R D Rajasekhar who shot Sonakshi Sinha with equal affection in Akira. But then there are films, and films,And there are ladies ,and ladies.
3. Navarasa(Netflix): In this eclectic uneven omnibus of nine stories based on the nine basic human emotions , the best is the first story Edhir, based on the emotion of pity(Karuna) it features two powerhouse performances by Vijay Sethupathi and Revathy as an murderer and his victim's wife. It is the only reason to include this weries in August's best. Edhir addresses itself to the question of the conscience and the power/ambiguity of forgiveness with such stupendous serenity, it is a joy to behold the art of Bejoy. As for Sethupathi , he is a force of Nature. With one twitch of his eyebrow he can convey an ocean of conflicting emotions.No other story in the 9-tiered anthology can match the power and sensitivity of Edhir.
4. Home(Amazon Prime): Home is very special film. It earns itself some major concessions from cinematic protocol. We forgive the sluggish loose-limbed pace because, well, life's like that. It doesn't follow any specific rhythm and movement. Most of the time we are nursing small splinters of our broken heart.Just like Oliver Twist, the original "Dil maange more" guy. Porridge or providence, we are always searching for something more than what destiny doles out. Just like Oliver in Home. Indeed Home is where the art is.
Image source: IMDb