From Mumbai Diaries 26/11 To Money Heist Season 5, Here Are Five OTT Releases In September Worth Watching
Here's a look at five movies and shows that shouldn't be missed.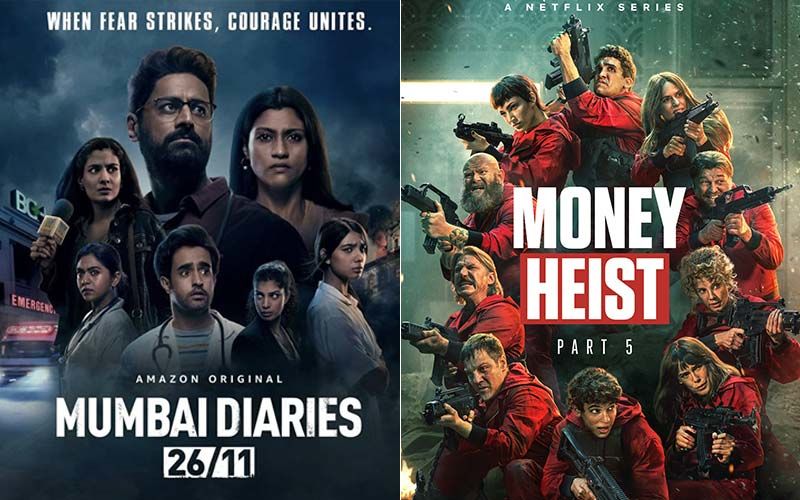 1. Mumbai Diaries 26/11 (Amazon Prime): Gripping from the Word Go. Amazon Prime's new serial Mumbai Diaries chronicles the events on night of 26/11 when Mumbai was paralyzed by a terror attack. Because of the Covid-19 pandemic we who are on the safe side of the battle line, have grown aware of how tough it is for the front-runners, the civil warriors who fight during a crisis often at the risk of losing their lives. In Mumbai Diaries it is the medical professional on high alert on the night of 26/11. Mumbai Diaries looks like a rigorously researched series with its head on its shoulders and its feet firmly planted to the ground reality. I am willing to stick my neck out to say this will be another outright winner for Amazon after the triumph of that biopic on that other true hero Shershaah. Streaming from September 9.
2. Annabelle Sethupathi (Disney Plus Hotstar): The ever-enterprising Taapsee Pannu whom we last saw blowing the lid of small-town morality in Haseen Dillruba is back on OTT. This time in Tamil, she is in the inspired company of the astonishing Vijay Sethupathi. Taapsee is very excited as she is featured in a double role for the first time. So are we. Streaming from September 17.
3. Bhoot Police (Disney Plus Hotstar): I sat through the trailer twice hoping to come away with at least one giggle or one titter .Nothing! Saif Ali Khan who is normally funny when he doesn't try too hard, is seen straining for laughter. What's with that accent, dude? Is it meant to be Bihari? Or something more outlandish? That swaggering I-am-too-cool-to-be-anyone's-fool rusticity compounded with Arjun Kapoor as a companion in his creepiness makes Bhoot Police look like a distant cousin of Stree. Streaming from 17 September.
4. Cinderella (Amazon Prime): Cinderella with a twist and a twirl! This time, she doesn't want a Prince Charming. She wants to be successful in her career! Bravo. Fairytales need to be updated and this one does a fabulous job of giving Cinderella a life beyond romancing and singing. Oh by the way, Camina Cabello who plays the titular dreamer is a great singer. But she isn't pining for the prince. As they say the 'shoe' must go on. Streaming since September 3.
5. Money Heist Season 5 (Netflix): The wait for Money Heist is finally over, as the final season of the beloved show is now streaming. The gang has been shut in the Bank of Spain for over 100 hours. They have managed to rescue Lisbon, but their darkest moment is upon them after losing one of their own. The Professor has been captured by Sierra and, for the first time, doesn't have an escape plan. Just when it seems like nothing else could go wrong, an enemy comes on the scene that is much more powerful than any they've faced: the army. The end of the greatest heist in history is approaching, and what began as a robbery will turn into a war. Streaming since September 3.
Image source: IMDB, Instagram/primevideoin/netflix_in/disneyplushotstarvip