Kuruthi: Roshan Mathew Opens Up About Working With Prithviraj, 'The Amount Of Commitment, Dedication And Passion That He Comes With Everyday, Is Very Inspiring'-EXCLUSIVE
Roshan Mathew created a niche for himself in the Malayalam industry, with back-to-back amazing performances he is called one of the most promising actors of tinsel town. In an exclusive chat with Spotboye Roshan speaks about his film Kuruthi on Amazon Prime Video & his equation with Prithviraj.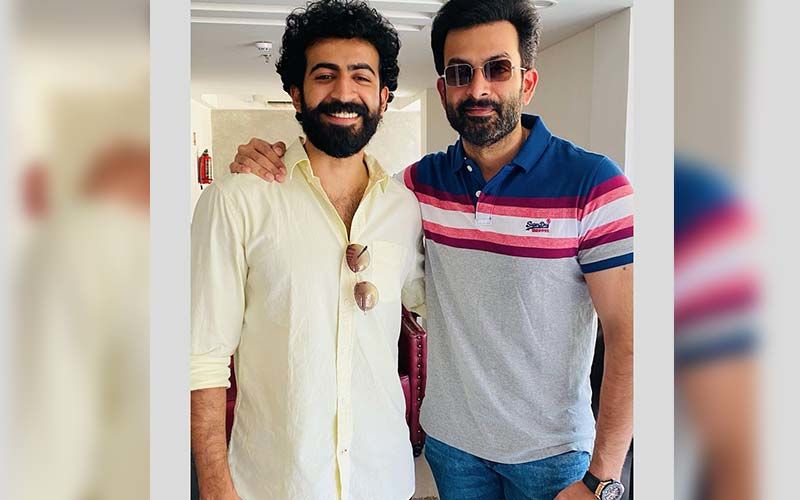 How is this character Ibrahim in Kuruthi, different from the ones that you have done in the past?
Ibrahim actually is a lot more complex than a lot of the other characters that have happened. He is also very unlike me. What has happened in the past, his current scenario of living, everything was very distant from me as a person and from all the other characters that I have played before. And also, I think what further amplifies that difference for me is that Kuruthi is the kind of film that I have never attempted before it is an action entertainer. It is a very commercial fast-paced action film that I have never really tried. Altogether it was a very different experience.
Are there any criteria you follow when you sign a film?
I sort of try to not take up characters that are too similar to something that I have done in the past, so how different is not really something I look at. But if it is too similar, I feel like I might end up repeating myself, so that I try to avoid it. And not similar to everything that I have done, maybe the last three to four projects.
You have mentioned this character has layers, was it the most challenging character that you have played so far?
I mean honestly, to me, every character I played has felt very challenging, and I think that's how it's going to be, I don't think I will ever do a film and feel that oh it was a cakewalk, even if you are offered something g which is very close to what you are in life. It takes some amount of work to be yourself in front of the camera, while you are performing a scene, either way, it is going to be challenging, Ibrahim definitely was. Everything is challenging in such a different way that comparison becomes very tricky.
What about physically? When you do such a role or the character which is heavy on emotions, and has darkness to it as well, does it affect you personally?
No, I am not the kind of actor who takes a lot of it back with me, if I am working back-to-back and playing really dark heavy characters then maybe. It sort of weighs on you a little. But that's not been the scenario, in the last couple of years we have had a lot of time to sit by ourselves and unwind. A little bit of work happens for a few months and then we are back again, so honestly when we were shooting Kuruthi which was in December immediately after the first lockdown was lifted and work had resumed, at that point I was just really excited to be back working. And it is a wonderful cast to have a chance to work, they all kept the energy up throughout, they kept the momentum going. The shoot was really hectic, it was very demanding, physically and emotionally, but I feel like as long as you are having fun the fatigue doesn't really get to you.
Kuruthi, has a stellar cast, it's an ensemble stellar cast, were you ever intimidated while sharing screen space with them? What was the emotion on set like?
I was intimidated even before I said yes to the film when the director read the story to me and I got the narration and then he said that these are the people I have in mind for the other characters and they all seemed really exciting cast for their particular characters. They are all the actors whose work I have seen and wanted to work with them. I have had a lot of respect for them. I was intimidated then and going in the first day of the shoot. Almost as soon as we started working on the film the first couple of days, this was one of the projects in which the equations were very comfortable with everyone. There were some very enjoyable friendships that happened; I really enjoyed working with each and every one of them. So that intimidation sort of gave away, to the joy of doing scenes with these people.
Who was the most fun to work with on the sets?
Bahut kuch hota hia set pe, but Neslin who plays my younger brother, he is one film old when it comes to Kuruthi, he has shot another one but I have seen only one film of his and I thought he was incredible in it, and in Kuruthi his character is entirely different. And he has this really light-hearted, no-stress way of doing things which I really enjoyed. I sort of really enjoyed his company; he was fun to be around. But then so was Rasan Da, Manikarnan our DOP, Abhinanadan and then I really enjoyed the conversation I had with Murlidharan, Gutthi was a lot of fun. It was one of those really enjoyable shoots, everybody was fun.
You have worked with Prithviraj before this will be your second film with him, so how was it working with him this time? And how was he on set?
This is my second time. He is great to work with, the other film that I did with him was Kode where I had few scenes with him, so I sort of left that set wanting to do another film with him, wanting to work with him. And I waited a while, Kuruthi came very unexpectedly I had no idea that this project was going to happen and I was going to get called for it. But I was super excited going into this project for many reasons, one of the main ones being Prithvi. It's incredible to work with him, it's great to watch him work, it's great to see the amount of commitment, dedication and passion that he comes with every day, that's where he draws his energy from, so he never really gets tired during shoots. So, the whole set is pretty much trying to match his level of energy, everyone is on their toes and keep the momentum. Its great fun that way and he was there from the first day to the last, and I was there from the first day to the last, so when you see this man do all of these things right consistently after being 110-120-130 films old, I don't know exactly, I only know that Kode was his 100th film and he has been doing all this for this long. And he hasn't sat back, he still hasn't let any of his basics go and the respect for his co-actors, no matter how many films they have done, or how experienced or young or old they are. All of that is very inspiring to watch.
Image source/Instagram/RoshanMathew