Parth Samthaan: Ekta Kapoor Had Told Me You Have A Great Female Fan Following But Mai Hero Boll Raha Hun Will Give You Male Fan Following Too- EXCLUSIVE VIDEO
Parth Samthaan speaks to SpotboyE.com exclusively about his forthcoming show, Mai Hero Boll Raha Hun, breaking from his chocolate boy image and more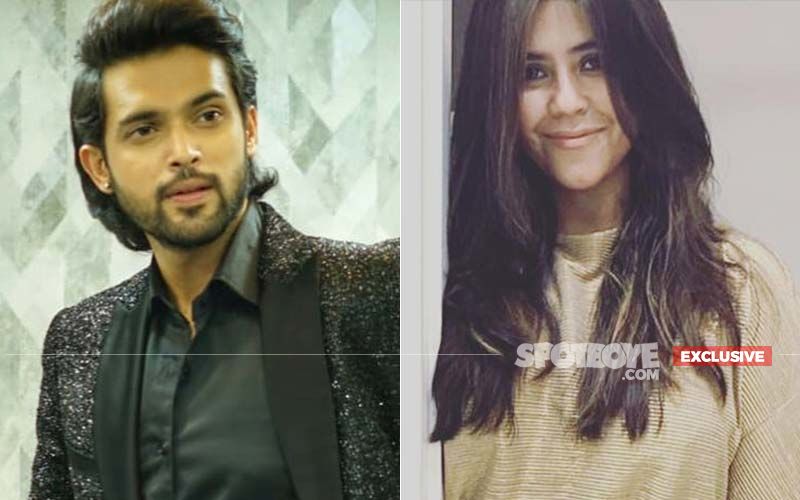 Parth Samthaan's much awaited web series 'Mai Hero Boll Raha Hun' is finally set to release. The trailer where Parth is seen in his gangster avatar Nawab has already left his fans excited.
And now, while talking to SpotboyE.com exclusively, the Kasautii Zindagii Kay 2 actor reveals what all he had to go through for breaking his chocolate boy image. Watch the video below;
What is this hero trying to tell the audience in 'Mai Hero Boll Raha Hun'?
This hero is trying to tell a lot of things. He has come from a small town and wants recognition in this big city. He just wants to conquer and rule the city.
We heard Ekta Kapoor wanted to break your chocolate boy image with this series...
I still remember when Ekta Mam had called me to offer this role. She said this character will be completely opposite to whatever I have done before. And it will break the image you have of Anurag, a good boy or the lover boy of Kaisi Yeh Yaariyan and help you to grow as an actor. Which I obviously respect today because she had that vision and today you can see the results.
What were the preparations you did to act like a gangster?
I worked a lot as I saw a lot of films from the 90s to understand their lifestyle. Read books based on gangster and underworld. And the process was really very interesting.
And what did you do to look like a gangster?
To be honest, the costume really helps to get into that mood or zone of the character. Like in this show, you will see me in high boots, bell bottoms and long hair which was the style statement in the 90s. I also grew my hair for seven and half months which I have finally cut. That was the longest I have grown in my life. And during that time apart from shoots when I had to get ready to go out, I used to take a good one hour to get ready which made me realise ki ladkiya itna time kyu leti hai (laughs).
Any difficulty you faced while acting like a gangster?
I had to work on the language. They used to talk like 'Apun aa rela hai apun jaa rela hai'. Which was difficult for me as that time I was parallely shooting for Kasautii Zindagii Kay 2 also where I had to speak in proper Hindi and then I have to come out and speak like in a complete bhai logo ki bhasha. But once after COVID, when we resumed shooting for it then things were quite smooth as after that we were just shooting for this series. By the eighth day, I got the rhythm of my character. Because I feel every actor takes at least a month to get completely into the character given to him.
Is your character inspired by gangster Abu Salem?
No it's not true. It is not inspired by him. It's a fictional character which is inspired by 2-3 gangsters. And the character has turned out really very interesting and colourful. You will not feel anywhere that he is doing injustice with people.
Did you take inspiration from any of the Bollywood actors who have played these kinds of characters before?
I have seen Sanjay Dutt's Vaastav. I watched Satya, Company, and also Ram Gopal Varma's film for reference.
What reactions have you recieved as Nawab from your closed ones?
I don't keep a lot of expectations. But after seeing the trailer, I actually felt like it's a film. A lot of people asked me also of its a web series or a film because it looked like a film. Yesterday, one of my close friends told me that you don't even look one percent of what you are in real life. Which was very commondable for me.
What were you thinking when you came down to a city like Mumbai?
When I came to Mumbai, I wanted to study architecture. And that's what I did also. But while I was pursuing that, people noticed me and I started getting calls. So, I was like if they are calling, lets try it out and see how it goes? That time I had no intention to become an actor. But from childhood I had an aspiration of becoming an actor. It was just that coming from the outer world and knowing no one in this field, there wasn't anyone who could have helped or guided me. But somehow Parth found his own path.
You enjoy a great fanbase. How do you maintain your equation with them?
I just try to be myself. I have never been someone who would like to impress or reach out to people. I have always been myself and in my own world. And I think that's what people like. They like my honesty and they like how I am with people as in friends and fans for that matter. Whenever they approach me, I always make sure that I entertain them and have conversation with them. I think that adds up well for me.
What are you expecting as an actor after this?
Ekta Mam had told me you have a great female fan following because of the kind of characters you have played till now. But this show will give you a nice male fanfollowing also. All the shows I have done before, I always had 3-4 female co-stars around me. But in this show, I hardly have scenes with female actresses. Most of the scenes were with male actors, which I was not used to. So that's when I realised that this is the man's world and have a different approach and I am really looking forward to how they would react to it.
How was your chemistry with Patralekha?
It was lovely. Unfortunately we didn't get time to work a lot on the scenes together. But whatever scenes we have done including the romantic scenes we made sure that we take time and do it as it's not a normal scene and the feel has to be there. So, overall it was very good.




Image Source: Instagram/the_parthsamthaan/ektarkapoor