Bhuj: The Pride Of India Review: Over-Dramatization Of A Real Covert Operation Of The Indian Armed Forces Kills The Ajay Devgn, Sanjay Dutt, Sonakshi Sinha And Sharad Kelkar Starrer
Here is our review for Bhuj: The Pride Of India, starring Ajay Devgn, Sanjay Dutt, Sonakshi Sinha And Sharad Kelkar and directed by Abhishek Dudhaiya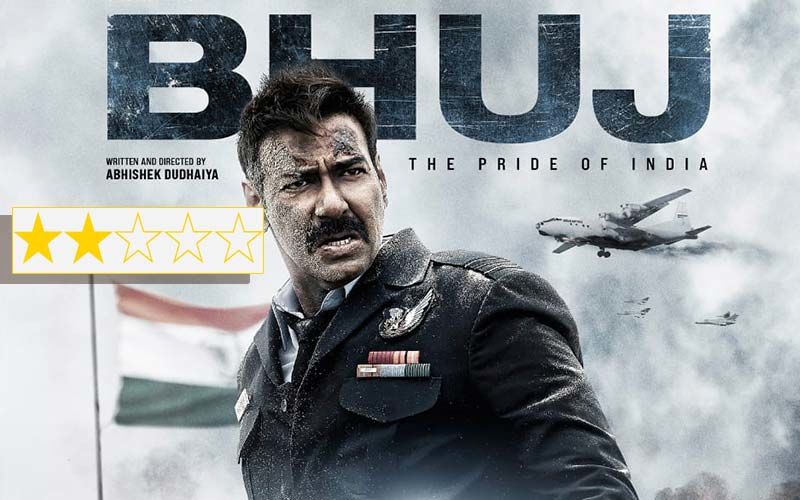 Patriotism is an extremely strong emotion and when you have to review films based on this spirit, the job gets tougher. On one end, Ajay Devgn's Bhuj: The Pride Of India will constantly disappoint you with its illogical portrayal of a covert operation, and on the other, the deshbhakt inside you keeps bringing you back to the story of valour as THIS actually happened in the history of our nation, just that it was minus all the frills shown in director Abhishek Dudhaiya's version.
Bhuj: The Pride of India, is based on the India-Pakistan war of 1971 which took place as a result of the Bangladesh liberation war in East Pakistan (now Bangladesh). As India was busy helping the Eastern Pakistan in the war, West Pakistan took advantage and attacked the Western regions of Kutch, Bhuj, Jamnagar of India. Their main aim was to cut Bhuj out of India's map and then bargain it for Eastern Pakistan. The film primarily revolves around how locals in Bhuj, helped Squadron leader Vijay Karnik (played by Ajay Devgn) in rebuilding the Bhuj airstrip, which was destroyed by the Pakistan air force in a deadly strike.
So, as mentioned earlier this was a covert operation, where in reality people kept extremely low profile so as to not make it obvious that the Bhuj airstrip is being reconstructed, but what we got was creative liberty in form of dhols and taashas kept right in the centre of the runway, bhajans being sung loudly by ladies as they built the strip, with Vijay Karnik also getting involved in the melodrama at a few instances. Oh, Sharad Kelkar (in his voice over) did warn us about it though at the start of the film, saying that makers have taken creative freedom. Well, this amount of freedom just backfired for the film.
The war sequences will pretty much remind you of Border and LOC. Dhudhaiya's direction also seems to be coloured with that kind of patriotic filmmaking. However, I lean more towards Uri sort of portrayal of valour. When Sanjay Dutt who plays Baghi, a local RAW agent, is spending ten minutes in the movie, standing at one place and fighting some 50 Pakistani soldiers with just one axe, you can't help but lean towards more relatable versions.
And now, coming to the performances, Ajay Devgn cannot act bad but I expected more. Sonakshi Sinha doesn't have much to do and unfortunately her character lets her down too. Sanjay Dutt contributes to the best he could in what was offered to him. Sharad Kelkar though was a let down for me as the actor has given such brilliant performances in the past but somehow the uniform didn't bring the best out of him.
Overall, Bhuj: The Pride Of India is a feel good patriotic film to watch over the Independence Day weekend but it defies all logic and lacks the authenticity to portray a covert operation with all honesty. Certainly over dramatised, and doesn't work for me. So, I'll say it's blahworthy and give it 2 stars.
Image source: IMDb, Youtube/T series, Instagram/sharadkelkar