Narappa Review: The Film Starring Venkatesh Is Powerful, Disturbing, But Kitschy
Narappa is a long pain-lashed film about survival against all odds. It is suffused with a sense of irredeemable justice, written on Venkatesh's wizened, agonized face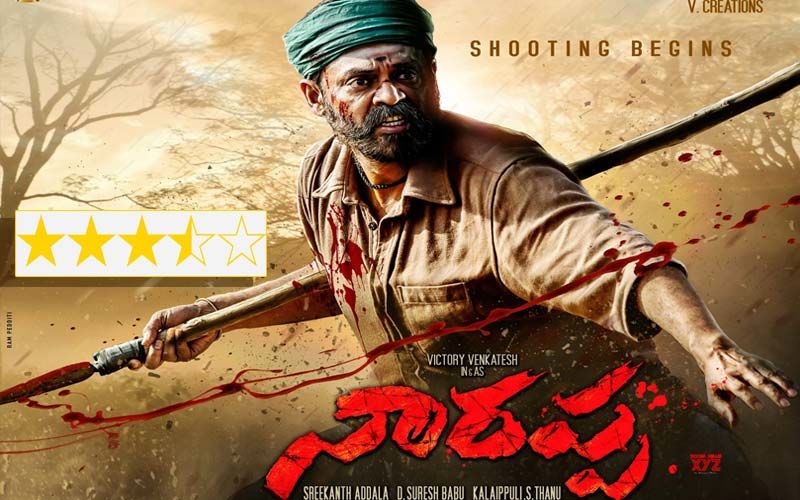 In 2010 Spanish neo-classic Biutiful when the magnificent actor Javier Bardem is dying, he holds his little daughter's face close to his face and says, "Look at me closely so that you don't forget my face when I am no more." I was reminded of that heartbreaking moment in Biutiful when in Narappa the grieving wailing father Venkatesh says about his brutally murdered son, "I've already forgotten his smell. Soon I'll forget his face as well. I never took a picture of him in the belief that the camera shortens lives."
Such episodes of unvarnished anguish are not rare in this big bulky somewhat unwieldy but eventually deeply moving study of the brutality that underlines the class structure in rural India. We recently saw Dhanush battling for his downtrodden caste in Mari Selvaraj's Tamil film Karnan. Narappa is not as raw and rousing as Karnan, not by miles. Oftentimes it lapses into sheer filminess, and that whole flashback with Venkatesh masquerading as a young hotblooded villager romancing his niece (Ammu Abhirami) is borderline ridiculous.
But then, when Narappa is good, it is so sooo very good you tend to overlook its bleak blind patches. Even in that flashback when Narappa's niece is punished for wearing slippers despite being of the lower caste, I recoiled in a horror in the way I had recoiled when in Shekhar Kapoor's Bandit Queen Seema Biswas was paraded naked in the village after being raped for weeks in a godown. Nothing has changed for the disempowered classes since Bandit Queen, made 29 years ago. And why only that? The downtrodden have remained there, on the ground, for centuries. Narappa shows what happens when the oppressed stage an uprising. There is bloodshed. The blood spilt is largely that of the disempowered.
In Narappa there are so many scenes of villagers being axed to their brutal deaths that I felt like screaming, 'What the HACK!" Hacking here means something far more primitive than what it does to the computer generations. Narappa is a long pain-lashed film about survival against all odds. It is suffused with a sense of irredeemable justice written on Venkatesh's wizened, agonized face. Except when he is busy playing the young rebel, he is fully in character, projecting a whole ethos of injustice in his wounded eyes. In the end when Narappa turns to his family and smiles Venkatesh gives a performance that will stay alive for years.
Priya Mani as Narappa's wife is effective in a small role though I wish she had allowed her eyebrows to remain naturally bushy. But this is not a women's picture show. It's all about the men as they fight bloodied wars and battles for the land. Narappa and his relationship with his two sons, the elder who is slain (Karthik Rathnam) and the younger (Rakhi) whose life must be saved at any cost, are the crux of the plot. The men are all well cast. They look like they can kill for land and loved ones.
Powerful in most parts, Narappa Is a literary adaptation (based on the novel Vekkai by Pooman) that knows how to hold our attention without manipulating plot points to its own advantage. It is violent and brutal, yes. But who said life's easy at the grassroots? When it is not being Rambo, it is real and effective.
Directed by Srikanth Addala, Narappa gets 3 and a half stars!
Image Source: Instagram/jathirathnalu_2.o, youtube/amazonprimevideoindia