Navarasa Review: Not Quite The Nine-Course Nectar, But Saved By A Brilliant Vijay Sethupathi
Navarasa is scattered with interesting moments. But they don't really add up to a comprehensive anthology. After Vijay Sethupathi's brilliant act in the first story, it is pretty much downhill. Read the fulll review.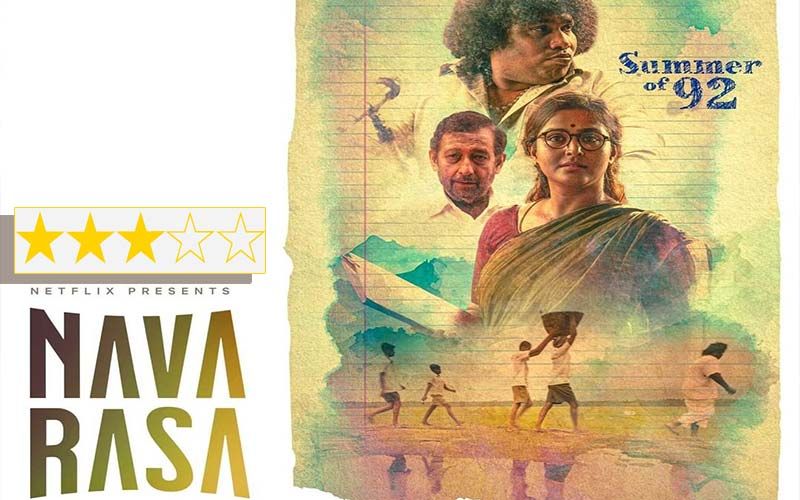 They say 'save the last for the best'. But in this eclectic uneven omnibus of nine stories based on the nine basic human emotions, the best is the first story, Edhir, based on the emotion of pity (Karuna). It features two powerhouse performances by Vijay Sethupathi and Revathy as the murderer and his victim's wife respectively. Their confrontation is so beautifully mapped that the entire film seems to have been plotted by director Bejoy Nambiar just to bring these two fabulous actors together. But no. There is more here. Edhir addresses itself to the question of the conscience and the power/ambiguity of forgiveness with such stupendous serenity -- it is a joy to behold the art of Bejoy. As for Sethupathi, he is a force of nature. With one twitch of his eyebrow, he can convey an ocean of conflicting emotions.
No other story in the nine-tiered anthology can match the power and sensitivity of Edhir. Except, maybe, just maybe the story on Bibhatsa (disgust). It is a story called Paayasam about an unreasonably jealous patriarch (Delhi Ganesh, brilliant) who just can't stop being resentful of his younger brother Subbu who is adored by everyone including the patriarch's own children. Paayasam is prodded by a percolating feeling of emotional explosion never quite reaching that stage of an open confrontation between the two brothers that would have trivialized the illogicality and impact of the elder brother's hostility towards the younger. Director Vasanth handles the wedding tensions with understanding and irony. This one is worth a dekko.
I would have added Roudhram (anger) to my list of favourites. But actor-turned-director Arvind Swamy piles on the melodrama so insistently that after a while I wasn't sure if he was lampooning the cinema of the 70s -- the oppressed poor but noble young hero Arul(Ramesh Thilak) who kills the evil lecherous moneylender, a character borrowed from Mehboob's Mother India. The adoration bordering on hero-worship for the mother. Though the storytelling displays an emotional grip it is way too hackneyed for a full frontal impact. Nonetheless - worth seeing especially for young Ramesh Thilak's performance and Santosh Sivan's cinematography which captures the colourful chaos of low life . But the gimmicky ending left me gasping for breath.
Priyadarshan's Hasya (laughter) episode titled Summer Of 92 has the popular comedian Yogi Babu reminiscing at a function to honour him at his old school about the pranks that made him a four-time Class 9 failure. The laughs are sustained only up to a point. Mid-way a canine takes over the show. And the comedy goes to the dogs.
Among the misfires of the anthology, count Immai (fear) where Siddharth plays a visitor to Parvathy Thiruvothu's posh residence only to expose himself to be a sinister ghost from her lurid past. Firstly, there is very little of Ms Thiruvothu on the screen. Ammu Abhirami who plays her younger version is a lot more visible. Though they don't resemble one another, a gap in one of the eyebrows for both the ladies suffices to convince us they are the one and the same. Thirovothu/Abbhirami's character Waheeda is a bit of an evil gold digger . No wonder she ends up on the floor in a pool of blood with Siddharth's mumbling and chanting under his breath about a vengeful djinn. There is so much explaining in this story… Allah! And I still don't know why actors like Siddharth and Parvathy agreed to be part of it. Maybe director Rathindran R Prasad has the answer.
Another honourable misfire is Guitar Kambi Mele Nindru celebrating the Shringara rasa. Superstar Suriya is a complete miscast as a 'Grammy nominated' (ahem) musician. The Indie-rocks songs by Karthik don't help. They punctuate the whole anomaly of a 40-plus Indian actor masquerading as a struggling musician in the anglo-pop scene. Suriya's hair-band doesn't help either. It makes him look like Adnan Sami during a bad-hair day. Making it worse for him is the fact that his co-star Prayaga Martin steals every scene. A cross between Madhuri Dixit and Reena Roy, Prayaga is quite a find. For this, we are grateful to director Gautam Menon.
The complete misfires of the anthology are the stories Beyond Courage, celebrating 'veera' (courage), Shaanth celebrating peace and Project Agni celebrating the adbhut(wonder) rasas. These three stories are not lacking in their zest to portray the human emotions in all its frailty, but get left behind in trying to match their vision with the execution of the story.
Navarasa is scattered with interesting moments. But they don't really add up to a comprehensive anthology. After Vijay Sethupathi's brilliant act in the first story, it is pretty much downhill.
Image Source: Instagram/netflix_in, youtube/netflix india