November Story Review: Tamanna Bhatia's Scuffle To Rescue Her Father Keeps Us Hooked In This Edge Of The Seat Crime Thriller
Here is our review of Disney+Hotstar's, crime thriller titled November Story, starring Tamannaah Bhatia, Pasupathy, G.M.Kumar, Vivek Prasanna, Aruldass, Myna Nandhini, Tharani Suresh Kumar, Namita Krishnamurthy, and Nishanth Naidu.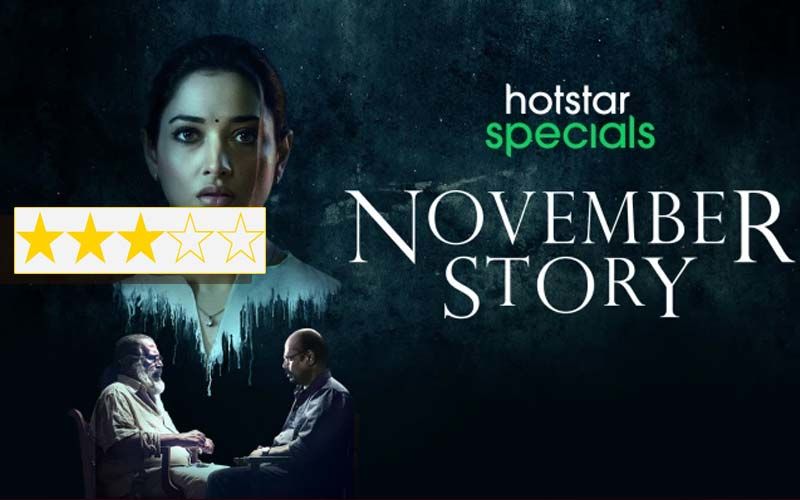 November Story, starring Tamannaah Bhatia, Pasupathy.M, G.M.Kumar, Vivek Prasanna, Aruldass, Myna Nandhini, Tharani Suresh Kumar, Namita Krishnamurthy, and Nishanth Naidu, marvelously portrays the beautiful bond of a father and his daughter, with a crime in the background.
November Story, directed by Indhra Subaramanian tells the story of a father and daughter who are living happily in their world but one incident destroys their life forever. Anu (Tamannaah Bhatia) is a hacker by profession staying with her father Ganesan (G.M.Kumar) who is a famous crime novelist. Anu's life comes to a standstill when her father suffering from Alzheimer's finds himself trapped in a murder case involving a woman. To save her father Anu embarks on a journey to find the culprit, but the road to success is quite bumpy. The journey is quite challenging for Anu as her father has no memory of what happened that day. Moreover, the house which Anu was trying to sell without the knowledge of her father for his treatment becomes a murder spot. When she is in the middle of solving the mystery her father's health deteriorates, and with no option left Anu meddles with the murder case.
Tamannaah Bhatia's performance as an ideal daughter is engaging. She gives out various wow elements in the film that are gripping and attractive. She is bold, confident, and lastly a loving daughter who can go to any extent to save her father from a crime that he hasn't committed. We get to see a soft side of her as well as the courageous side that changes according to the situation. Tamannaah does justice to her character and it can be considered to be one of her strongest presentations to date. G.M.Kumar wonderfully comes across as a caring father and a vulnerable ill man. Talented Tamil star, Pasupathy who is known for his critically acclaimed roles is the cherry on the cake as he merges beautifully with the storyline. Aruldass is a comic element in this crime thriller, who offers comical relief in bits as the police inspector investigating the murder case. The other supporting cast has managed to blend themselves around the screenplay to some length. Though the series unfolds slowly its cliffhangers cannot be missed, as it forms the core factor of the series.
The Web Series offers a lot of twists and turns added with suspense and mystery around it. The scenes where Anu starts to track the incident that happened on November 16 and goes on getting stuck in the phantasmagoria of events is a winning segment. The plot goes on to become interesting as the audience keeps thinking about the murderer's name. The series involves some extremely dark scenes which are frightening to the core, but the cinematography compensates with the superb graphic visualization. The nail-biting situation arises when we see that Anu has very little time to save her father before the time is gone. Some scenes are easily predictable but the noteworthy performances by the actor's cover-up for everything.
Overall the series can be termed as an almost perfect crime thriller that keeps us involved in the guessing game throughout the series. Though the climax may not contain the surprising element as expected, still it manages to impress us with certain moments and thrill. November Story seems to be a promising entry in the world of Tamil OTT webs series. The webs series is divided into 7 episodes and is now streaming on Disney+ Hotstar in Tamil, Telugu, and Hindi languages.
Image source: Hotstar